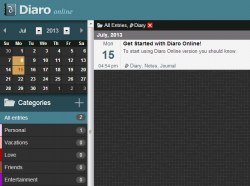 If you are using a diary to record your life's memorable events and unforgettable experiences, you better stop keeping it under your bed. Come to think of it, there are lots of personal diary apps on the web and Diaro is one of them. Let's see if this free web app is reliable enough to keep your secrets.
What Is It and What Does It Do
Main Functionality
Diaro is a free web application that lets you record your daily activities, thoughts, ideas and memorable experiences. It is your personal diary but it is way more secure than the diary that you used to keep under your bed. You can even use it to keep track of those important dates that you do not want to miss or forget.
Pros
Compatible with any type of web browsers (e.g., Firefox, IE, Opera, Chrome, etc.)
Your records or daily logs will be stored in a private folder and will be automatically linked to your Dropbox account.
Easy to use web interface
You can export your entries as TXT or PDF
You can recover or restore your lost or accidentally deleted entries using your backup file.
You can easily keep track of all your entries via the Diaro Calendar.
Features a simple quick search tool, you can also sort your entries by category or tag
Customizable category templates and fonts
Supports geo-tagging and photo uploads
Cons
There's no tool for selecting multiple entries. So if ever you want to delete two or more entries, you need to delete them one by one.
There is no option for highlighting a specific dates in the calendar.
You cannot access the app offline.
Discussion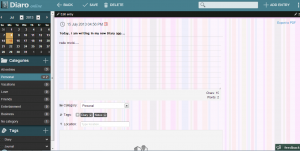 Compared to the conventional way of writing journals, the Diaro personal diary web app is far more secure since it is linked to Dropbox. There's also no need for you to download and install the app to your computer. All you need to do is to load its official page on your web browser or if you're using Chrome, simply download the app at the Chrome Web Store. Just keep in mind that in order for you to use this app, you need to grant its request to access your Dropbox account. By doing so, you are allowing the app to create a sub-folder for your Diaro entries. Do take note that this is the only folder that the app can access. It won't be able to view or access any of the folders that you've stored in your cloud storage account.
Apparently, you need a Dropbox account to access the app's browser-based UI. If you are worried about your app's security, I recommend that you enable the two-step verification feature of your Dropbox account. This is also a good way to ensure that you're the only one who can view or edit the entries of your personal diary.
What I like most about this app is that it's easy to use. I also like the fact that I can easily sort out my entries by date, category and tags. It also allows you to change your entry's background image and fonts. The only problem is that this option can only be applied per category. For example, if you change the font of the first entry that you posted in the "Personal" category, the changes that you've made will also be applied to the other entries that you've posted in that particular category. Nonetheless, I find its features very user-friendly.
While I am pleased with the app's current features, I feel that it still has the potential to improve. It could have been more useful if it allows offline access to its users. I also didn't see any tool for selecting multiple entries. I find this feature very useful especially for deleting multiple entries as well as for editing tags. On the other hand, the app's built-in calendar would look a lot better if it has the option for highlighting dates with a different background color.
Conclusion and Download Link
The Diaro personal diary app may lack in certain aspects but that doesn't change the fact that it has a lot of good features. It is also very reliable. So if you're looking for secure personal diary application that you can access anytime and anywhere, better this give this app a try. Just make sure that you have a good internet connection.
Price: Free

Version reviewed: 1.0.6

Requires: Compatible with any modern web browser

Diaro – personal diary homepage
Related Posts