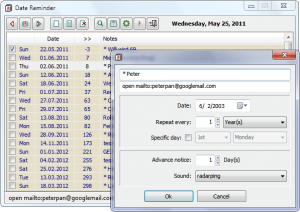 Portable programs are quite in demand since they don't clog up your system registry plus you can take them wherever you go. As for those who are in the hunt for a simple yet reliable calendar and time management software, better check out this portable tool called Date Reminder.
What Is It and What Does It Do
Main Functionality
Date Reminder is a free time and calendar management software for Windows. It is developed by Horst Schaeffer, a Munich-based software developer. Apparently, this software is intended to remind you of certain recurring and non-recurring events such as your best friend's birthday, payment dues and work-related seminars.
Pros
Simple UI with properly labelled controls
You can schedule recurring events with custom sound alarms – these events may recur every day, every week, every month, every year, every other week, every four months, every first Monday of the month, etc.
You can set an advance notice for your reminders.
You can sort or organize your reminders according to date, priority and alphabetical order.
Features options for UI customization – fonts size, font style, font color and background color
Completed tasks or reminders will be automatically deleted 7 days after they are marked as "done"
The reminder window has an option for adding extra text and special system commands
Portable – no installation required, can be stored in your USB flash drive
Cons
This software lacks the ability to create reminders within a specific time period
You can only use a .wav file for custom sound alarms – other formats such as .mp3 and .midi are not allowed
There are only a limited number of software controls
Does not support advanced content filters
You cannot back up or restore your files
No password protect option
Discussion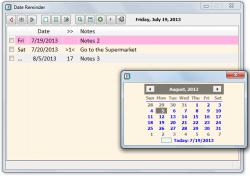 Functionality wise, the Date Reminder software practically does what it is designed to do. It helps you recall the things that you are supposed to do. Plus, it's portable. You can take it wherever you want and it doesn't take up a lot of space in your USB flash drive. You can even use it on any Windows-based device. It's just that it lacks in certain aspects. It's good but for some reason, it gives off a lackluster impression.
When I first installed this software, the very first thing that I noticed was its simple UI that somehow reminds me of a rather outdated interface. Well, that doesn't really matter as long as it does a good job in creating reminders. At first, I didn't have any trouble setting up my reminders but it came to the point where I get confused with the time settings. Yes, you can set reminders for reoccurring and non-reoccurring events but it won't exactly tell you when. For example, you created a reminder for your new exercise regimen. You set your reminder to remind you every other day but what if you want it to remind you that you should start your new exercise routine every 6AM? That's not going to happen. The Date Reminder software doesn't have that feature plus the type of alarm sound that you can use is very limited. You cannot even use your favorite MP3 songs as your custom reminder tones unless, of course, you convert them to WAV.
The good thing is that this software comes with a New User Guide so you won't get confused especially when it comes to managing your daily reminders. I highly recommend that you read the user guide first or else, you won't be able to fully understand how the software works.
Still, I wouldn't say that this tool isn't good. The main problem with this tool is that it's "too simple". It is too simple to the point that you would prefer to use other tools just because they have something that you find more interesting and useful.
Conclusion and Download Link
Despite this software's reliable features, I don't really recommend you to try this because I just don't see any reason why you should. Yes, it does a good job in creating reminders plus it's portable but so are other time and calendar management tools. Some of them are even compatible with multiple platforms. If it's a reminder or task management app that you want, you better check out this list of best free to-do, reminder and task management programs.
Price: Free
Version reviewed: 3.22
Supported OS: Windows 2000/XP/Vista and Windows 7
Download size: 114KB
VirusTotal malware scan results: 2/47
Is it portable? Yes
Related Posts