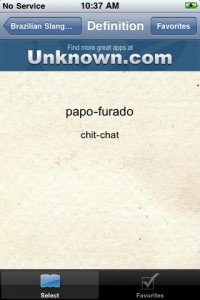 I was lucky enough to meet a lot of people in college who came from all over the globe. I had a couple of friends from Japan, a roommate from Germany, and a buddy who split his time between Brazil and the US. He introduced me to a lot of Brazilian food and culture, and while I'm not an expert by any means, I definitely have an appreciation for Brazilian culture. As a bit of a word nerd, I thought that I'd check out a little app called Brazil Slang and Travel Reference.
What is it and what does it do
Main Functionality
Brazil Slang and Travel Reference provides users with tips on Portuguese vocab that's directly related to Brazilian travel and slang words.
Pros
Two dictionaries in one: one filled with travel words to help you navigate airports or hotels, and the other with slang words relating to sightseeing
Add your favorite words to your "Favorites" list to ease of retrieval later on
Cons
App hasn't been updated since 2011, so it won't have any slang or pop culture references related to vocab that entered the Brazilian lexicon from 2012 to 2013
Multiple user reviewers from Brazilian natives have stated that the translations provided are inaccurate: not what you want to hear when you've been prepping for a trip to another country!
Discussion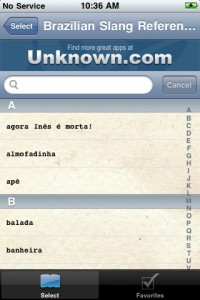 Brazil Slang and Travel Reference sets out to provide a guide to helpful slang and travel words. However, despite a large database of words, the app has some big problems. One of the most glaring is the interface.
The interface lets you find words by using the search bar, or by scrolling down an alphabetically arranged list of terms. The search is actually kind of great for when you can't remember a certain word: entering "ba" as your search key brings up words that start with "ba" (like balada) or have "ba" somewhere in them (like levar bomba.)
However, the scrolling is a pain: you can't search for words by their English meaning, and words aren't grouped into any helpful sorts of groups (beyond just "slang" and "travel" words.) All in all, this isn't the easiest app to browse.
Multiple user reviewers from Brazilian natives have stated that the translations provided are inaccurate, or worse, incomplete. It's too bad this app didn't take more of a wiki or social networking approach: these kinds of corrections could have been made by the users, strengthening the app and eliminating the need for the developers to make all the fixes themselves. As it stands, this would not be a good app to use as a sole reference.
Conclusion and download link
As a freebie, this app is worth taking a peek at. However, there are some incorrect translations, and the app's interface isn't the best. Give it a glance, but buyer beware: this app has some problems and they aren't likely to be fixed anytime soon.
Price: Free
Version reviewed: 1.1
Supported OS: Requires iOS 3.0 or later

Download size: 7.8 MB
Brazil Slang and Travel Reference on Apple App Store
Related Posts