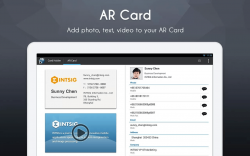 Compared to the conventional way of managing business cards, business card readers are way better because they provide a hassle-free way of sorting out your contacts. Just scan a business card, save it to your Android device and voila! Your contact's phone number, e-mail address, etc. will be automatically saved to your smartphone or tablet. As for CamCard Free, it's more than just a simple business card reader.
What Is It and What Does It Do
Main Functionality
CardCard Free is a free business card reader app by IntSig Information. Its main function is to read or scan your physical business cards so that you can automatically convert them into digital business cards. Aside from this, you can also use the app to efficiently organize your scanned business cards by name, mobile number, work number, e-mail, website, company, etc.
Pros
Well-designed user interface, easy to use
You can scan your business cards using your phone's default system camera but if you want to take advantage of the app's bulk card scanning feature, you can use its built-in camera.
You can scan the old business card photos that you've stored on your gallery.
You can backup or restore your Camcard data to or from your SD card
Features automatic account syncing (ideal for users with two or more Android devices, account log-in required)
You can create your own AR cards with visually captivating content such as videos, audios, graphics, etc.
Supports more than 200 languages
Features an option for exporting cards in vCard or Excel format
Features a quick share option for sharing business cards to various communication channels such as Gmail, Bluetooth, SMS, Viberr, QR Code, etc. You can also link your LinkedIn profile.
Organizes your business cards by group, company, job title, post codes, notes, etc.
You can use a password to lock your list of business cards (aka Card Holder)
Cons
The amount of business cards that you can save is limited. Non-registered users can only save up to 50 cards with 2 extra cards per week while registered users can save up to 1000 cards with 10 bonus cards per week. (Registration is free.) However, you can opt to increase your limit by sharing the app to your contacts on Facebook, Twitter, Weibo, etc.

If you upgrade to the full version ($2.99), you can store unlimited cards.

Only registered users can sync their app data to other devices
Not 100% accurate. It works better on devices with camera auto focus support.
Ad-supported in free version
Discussion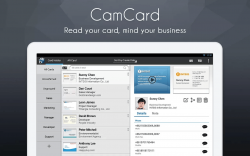 CamCard Free is the free version of the paid CamCard app. So it is already expected that its features will not be as rich as its premium counterpart. Nonetheless, it does pretty well especially when it comes to managing your contacts. It also has a well-designed user interface with appropriately labelled buttons. Since the app's main function is to scan your physical business cards into digital vCards, you'll have to consider some important factors.
First and foremost, the app won't work well on devices with no camera auto focus support. It also won't scan your business cards properly if the text is too small. It also has a problem in recognizing italicized texts and addresses. So if you want to make the most out of this app, your phone or tablet's camera must have auto focus or else, you'll have to add or edit the contact details yourself. Secondly, you should always consider scanning your card on a well-lighted place and make sure that it is placed on a flat and stable surface.
It is also important to note that the CamCard Free app will limit the amount of cards that you can store. For non-registered users, you're only allowed to save up to 50 cards with the increment of 2 cards per week. Registered users, on the other hand, are given the privilege to store up to 1000 cards with the increment of 10 cards per week. The app also provides several options for app users who wish to increase their card limit.
While the above mentioned limitations might discourage you from using this app, I suggest that you check out its other features first before you make your final decision. This is because the rest of the apps features are very commendable. As a matter of fact, it features an efficient way of managing your business cards. With this app, it's so easy to create, share and sort out your vCards. You can even change the theme or layout of your vCards before you view them on full screen.
There's also no need to worry about transferring your contact list to another device since this app supports auto syncing. Plus, you can set a password to lock your app's Card Holder. This way, you'll be able to restrict other people from viewing your business cards.
Conclusion and Download Link
CamCard Free is good but it's not perfect — it has some flaws. While I do not mind the fact that there's a limitation to the amount of cards that a free users can store, I feel disappointed by the fact that this app doesn't work well on devices with low-end camera specs… especially for cameras with no auto focus support. The good thing is that the rest of the app's features makes up for its flaws so it is still very commendable. As an added bonus, CamCard Free also serves as a good alternative to your phone's default phonebook since you can use this app to directly send emails, SMS messages and instant messages to your contacts.
Check out this app, as long as you are not bothered by the restrictions on the amount of cards free users can store.
Price: Free, $2.99

Version reviewed: 4.1.0_20130617
Requires: Android 2.0 and up
Download size: 23MB
Related Posts