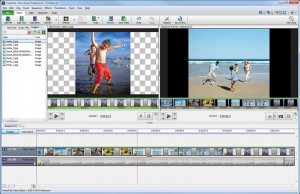 There are a lot of video editors in the market. Unfortunately, not all of them are as good as what they intend to be. If you are lucky, you might end up getting a reliable video editing tool with lots of cool visual effects. Let's see if it's the same for those who opted to use the NCH VideoPad Video Editor.
What Is It and What Does It Do
Main Functionality
The VideoPad Video Editor is a product of NCH Software. This software features a full suite of tools that will allow to you to create, edit and save your videos in various formats such as .avi or .mp4. You can also use this software to edit, optimize and upload your videos to media sharing sites such as YouTube, Facebook and Flickr.
Pros
Simple, neat and user-friendly UI
Lots of cool visual effects and transitions
No embedded watermarks
Saves videos in various file formats – .avi, .wmv, .asf, .mpg, .3gp, .mp4, .mov, .flv, .swf, .rm, .gif, .dv, .mkv
Provides options for enhancing video quality – high frame rate, high resolution
Supports direct upload to YouTube, Facebook and Flickr
Provides options for burning DVDs and data discs, also supports direct upload to portable devices (e.g. iPhone, iPad, iPod, PSP, mobile phone)
Can directly upload or record videos from camcorders, webcams, etc.
Can be used for taking screenshots and screen recording
Cons
The software occasionally lags especially when you're working with multiple tracks
The Preview option takes some time to load
Comes bundled with bloatware, such as an NCH toolbar. Be sure to uncheck during installation to avoid installing this added and unnecessary software.
Is not free — costs $39.99 and up
Discussion
The NCH VideoPad Video Editor is a very nifty tool especially for video editing amateurs. It features a full suite of tools that you can use for editing videos but it is only intended for home use. While this software is not really meant for commercial and professional purposes, you can still make the most out of its features. It's great for creating short music video clips, animated gifs, lyric videos and a whole lot more.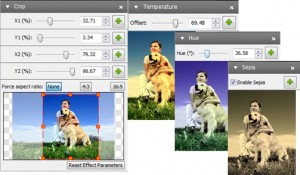 The best thing about this software is that it's feature-packed. You can do a lot of things that you usually cannot do on other video editing tools. For example, when editing videos, you can add a variety of video effects and transitions. You can adjust the clip speed, position and orientation. You can split clips into multiple parts and you can even add multiple tracks into one timeline or storyboard. You can also use photos, custom texts and subtitles. That's not all. You're also allowed to capture or record videos from your camcorder or web camera. If that's not enough to satisfy you, you might as well create videos out of your audio and screen recordings.
In addition, this software will also give you the option to save your videos according to your preferred format. You can also upload your videos to various media sharing sites such as Facebook, YouTube and Flickr. Another thing that I like about this software is that there's no need for you to worry about the video quality since the software will provide you with pre-formatted settings. For example, when uploading your videos to YouTube, there's no need for you to set its resolution to 720p or 1080p. Just select the option for direct YouTube video upload then choose your desired format and that's it. So it doesn't really matter if you only know a little about converting your files to HD.
Furthermore, the VideoPad Video Editor won't force you to embed watermarks on your videos. To be honest, watermarks are annoying and they're totally unnecessary. So I really commend NCH for being considerate.
Even so, every software has its own set of drawbacks. As for the VideoPad Video Editor, I noticed that it lags a lot especially when I'm editing lengthy video clips and multiple tracks. The same goes for clip previews and sequence previews. The responsiveness of the software is usually affected by the quality and length of the videos that you are editing. Nonetheless, it works pretty well on short clips.
Conclusion and Download Link
The NCH VideoPad Video Editor is a very reliable software. As a matter of fact, it's one of the best video editing software that you can find in the market. It may have its own set of drawbacks but its pros will always outweigh its cons. So if you're not satisfied with your current video editor, I suggest that you try out this software first before you decide to get a premium video editing software like Adobe Premiere Pro.
Price: $39.99+

Version reviewed: 3.04
Supported OS: Windows 8, 7, XP, Vista

Download size: 4.10MB
VirusTotal malware scan results: 0/47
Is it portable? No
VideoPad Video Editor homepage
Related Posts