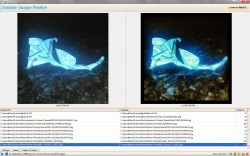 One of the biggest problems with keeping a backlog of photos saved on a smartphone, is that eventually you end up with a lot of duplicates after transferring them over to a PC. At least in my case, this happens because I always backup photos to a new directory or folder. It's just easier to back up everything all at once, rather than separate photos that I already have on my computer from the ones I don't. Obviously, this causes consistency issues and takes up unnecessary storage. There are plenty other scenarios where duplicate photos would be a problem though, and that's what this next app is for. Similar Image Finder is a free Windows application that will scan images and help you locate any duplicates, so that you may deal with them accordingly.
What is it and what does it do
Main Functionality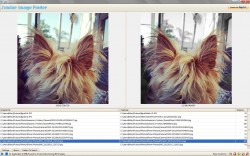 Similar Image Finder is a freeware application that will scan images stored on your computer and identify duplicates. You choose a similarity rating (in percentage increments) which determines how similar each image should be. Obviously, for the best results the rating should remain between 90 and 100 percent. It's a pretty simple application in terms of usability, but it's very useful if you have a lot of images stored on your computer- at least in theory.
Pros
Clean and simple UI
Scans user defined directories and sub-folders (if enabled) for duplicate images
You can take action immediately thanks to quick nav buttons like swap images, delete duplicate and more
Light on system resources (4MB of RAM or less)
Available in several different languages (changed in the app settings)
Cons
If the minimum similarity rating is below 90 percent the app starts to lose it's usefulness
Discussion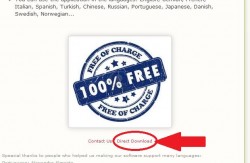 Similar Image Finder as I mentioned above, is a freeware application for Windows that will scan media and identify duplicate images and photos. The primary reason for using an app like this is to find unnecessary content and remove it to conserve storage space. It also helps cut down on the number of photos and images stored on a PC when there are a lot of duplicates involved.
If you download the application, make sure to select the 'direct download' option at the bottom of the homepage. It's located just below the free of charge logo, which you can see pictured to the right.
There is no portable version available, which means you will need to install the application. However, the install package does come bundled in a compressed folder which means you will need WinZIP, WinRAR, or 7ZIP to extract the contents. Once extracted, you will need to install the application. I did not encounter any bloatware during the install process, but that doesn't mean future versions will be clean. Always pay attention when installing freeware, because it's easy to install something you don't want like a browser toolbar or worse.
The UI is relatively clean and very easy to understand. The topmost section of the window is reserved for the image previews, and there are two of them side-by-side. Below that is a form which will display the file list and related details after a search has been performed. Then you have three action tabs, and navigation buttons down at the very bottom.

The three action tabs include: folders to search, settings and about. If you open the 'folders to search' tab you can designate which locations you would like the application to use when searching for duplicate images. In the application settings, you can also choose to search sub-folders or ignore them, among other things.

In the application settings you can also select the minimum similarity rating (which I recommend keeping at 90 percent), formats scanned, search speed and list sorting (by file size, creation date or pixel size).
Once you've selected a directory, or multiple, you can simply press the blue start button at the bottom of the screen. It goes without saying, you can stop the scan process at any time by pressing the blue stop button.
If duplicate images are found, you will see a preview of the photos in the topmost forms. Below that you will see a list of all the duplicate photos that have been identified. Scrolling through the list will update the preview windows accordingly.

Through the bottom navigation buttons you can do the following:
Swap images
Delete duplicate
Move duplicate to another folder
Ignore similarity
Delete both
If you click on either of the image previews it will open the file in the default imaging application.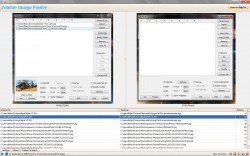 The application works pretty good when scanning for duplicates, at least when the minimum similarity rating is set to 90 percent at the lowest. If you set the rating any lower than that the image selection becomes almost comical. At 70 percent or lower you start to see a lot of images that have little to no similarities at all. That being said, leave it at right around 90 percent and you should be golden.
The navigation or action buttons are great, because you can handle the duplicates right away. It's especially nice to see the option to swap images. In my case, this allowed me to move an identical image with a better name to the proper storage directory I wanted.
For reference, Similar Image Finder only uses about 3,000KB of RAM while running, which is around 3-4MB. For all you tech-illiterate folk out there that means it's lightweight in terms of resource usage.
Conclusion and download link

Similar Image Finder is a free and lightweight Windows application that will help you locate duplicate photos and images stored on your computer.The application scans user specified directories, including sub-folders, and locates duplicates. It then displays them side-by-side so that you may act accordingly. You also have instant access to action buttons like swap images, delete duplicate and more. Anyone interested in a casual application would have no problems using this easy-to-understand program, and adept techies can fine tune the search as necessary. The interface is even available in several languages. I recommend you check this out if you are plagued by the issue of too many duplicate photos or images. If you do check this one out, I recommend keeping the minimum similar rating at 90 percent or above for the best results.
Price: Free
Version reviewed: 1.1
Supported OS: Windows XP, Vista, Seven, Eight
Download size: 5.95MB (zipped), 6.37MB (unzipped)
VirusTotal malware scan results: 0/47

Is it portable? No
Related Posts