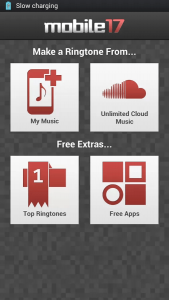 There are many reasons why a lot of Android users think that creating a custom ringtone is nothing but a hassle. First, it requires one to edit or split the audio track using a special audio editing program. Second, it's time consuming since you need to transfer the song from your device to your computer. Well, let's see if the Mobile17 Ringtone Maker app can help.
What Is It and What Does It Do
Main Functionality
The Mobile17 Ringtone Maker is a free application for Android devices and it is developed by Mobile17 Digital. What this app basically does is that it provides an easier way for you to create unlimited ringtones of various lengths. With this app, you can create custom alarm tones. You can also create custom ringtones for incoming calls and incoming message alert notifications.
Pros
Simple and fast-loading interface, easy-to-use
You can create ringtones out of your locally stored songs
You can preview the song that you want to edit
Offers a large database of popularly edited songs
The custom ringtone length could range from 1 second to 60 seconds.
Your custom tones will be automatically stored to your SD card. Thus, you can easily share them to your friends or IM contacts.
Cons
Too many ads – there are ads in almost every page of the app
There are menus or sections that are only meant to promote paid mp3 downloads and other unrelated apps
You cannot directly download songs from the cloud – this feature is only available for paid users. This means that you need to purchase the app's pro version for a one-time fee of $0.99.
Discussion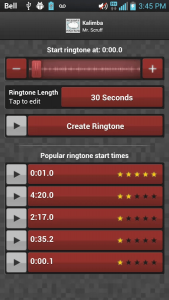 I personally like the fact that this app is so simple and straightforward. If you want to use it to create a custom ringtone, simply tap the create ringtone from "My Music" button. After that, you get to choose from your list of available songs. Just remember that your songs must be stored in your "Music" folder or else, the app may have some difficulties in tracking your song's file location. To make sure that you're editing the right music track, you can opt to preview your song by pressing the small "Play" button which is located at the bottom right corner of your selected song.
Once you have loaded the song that you want to edit, you're now free to choose a particular segment that you want to use a ringtone. This could be a short segment from the chorus, intro, etc. It's totally up to you. After this, the next thing that you should do is to select your preferred song length. Keep in mind that you can only create a custom ringtone with a maximum track length of 60 seconds. The edited tone will then be stored to the app's folder and you're now ready to customize your sound and notification alerts. You can set this up by going to your phone's Settings > Sound section.
As you can notice, this process of creating custom ringtones is so hassle-free. There's no need for you to sync or transfer your music files to your computer and so on. The only downside to this app is that it's full of ads. There are ads everywhere and every time that you launch the app, the first thing that will greet you is an ad. It's totally understandable for free apps to have ads but it could've been better if it's presented in a way that it wouldn't annoy its users. Furthermore, I've also noticed that the app has a section for Top Ringtones but when you get to click on those songs, they're not for free and they're actually a selection of full mp3 songs that you can purchase via Amazon.
Other than that, free users are also not allowed to access the app's Unlimited Cloud Music collection. If you want to create ringtones out of those songs that you can find on SoundCloud, you have to purchase the Pro version of the app for $0.99.
Conclusion and Download Link
I like this app — it's simple and convenient. However, I don't like its ads which I find to be obtrusive. It could've been better if there's an option to go ad-free but alas, there's none… or at least none that I could find. Anyway, I still find Mobile17 Ringtone Maker very useful for quick custom ringtone edits and ringtone creation. I recommend this app to those who wants an easier way to convert their favorite audios and songs into custom ringtones.
Price: Free – users can upgrade to Pro for $0.99
Version reviewed: 2.0.4
Requires: Varies with Device
Download size: 1.66MB
Related Posts