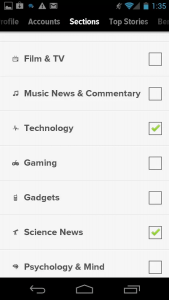 One of the many benefits of having a personalized magazine is that you can actually choose the type of articles and blog posts that you want to read. You're free to choose your topics of interest regardless if it's all about health, technology, fashion, etc. Speaking of which, there's this free customized magazine for Android called "Zite".
What Is It and What Does It Do
Main Functionality
Zite is a free personalized news and magazine app for Android devices. It is created and developed by Zite, Inc. What this app does is that it automatically searches the web for the most relevant and most valuable articles that will best match your topics of interest. It won't show anything that isn't suited to your preferences.
Pros
Smooth UI, fast-loading, easy-to-use
Customizable sections
Features a wide variety of categories which includes World News, Politics, Arts and Culture, Business, Film and TV, Music, Technology, Gaming, Gadgets, Food and Cooking, Philosophy, Photography, Healthy Living, Personal Finance, Travel, Pets, etc.
Powered by a powerful content discovery engine that automatically evaluates the quality or value of each blog post or article
Features a smart auto-suggest tool – the results will be tailored according to your topics of interest
You can adjust the text size to small, medium or large
Provides an option for viewing the article's original source
Features a quick share button – share your favorite articles via Facebook, Twitter, Gmail, SMS, IM, etc.
Users can rate each article by using the "like or dislike" button
Private user profiles
You can link your Zite account to Twitter
Cons
This app is not optimized for tablets
No pinch to zoom support
The articles that you've already read will stay as is; they won't be marked or greyed out
Doesn't have the ability to save the articles to "Favorites" or "Read Later"
You cannot change the app's theme or layout
Lacks option for user configuration
Users are not allowed to add their own RSS feeds
Discussion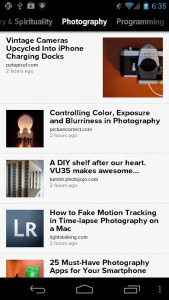 Zite is a content aggregator that provides user-tailored results. It uses a technology that intelligently collects and evaluates data according to several key factors. Just think of it like a virtual or digital magazine that you can read on your mobile device but instead of pre-formatted content, you get to choose the topics that you want. This is because you're free to choose or customize the sections of your magazine. There are special sections for Politics, Business, Sports, Film and TV, Music, Technology, Health and a whole lot more.
Not only that, this app also features an easy to use UI with responsive gesture-based controls. So it's easy to flick through each section or topic by simply swiping your screen from left to right (or vice versa) while you get to browse the articles from top to bottom. It's just a bummer to know that this app lacks a refresh button. There's also no option for user configuration so don't expect that you can set the content refresh rate. The same goes to those who wish to change the app's UI theme or layout.
Fortunately, you can rely on the app's tools for improving your reading experience. It may lack the much-needed support for pinch to zoom but it does offer a tool for adjusting the text size into three different sizes. You can also make use of its built-in share tool to send or share your articles to various social media sites such as Facebook and Twitter.
Here's the disappointing part, the app looks good and stable but it still lacks in many aspects. As a matter of fact, its features aren't as good as its iOS counterpart. It won't even mark or update your previously read articles plus there is no option for adding a certain article to your list of "Favorites" or "Read Later". Another downside of this app is that it's not optimized for tablets. So you might encounter some problems every time you try to load and view the app on a larger screen.
To sum it up, the Zite app has its good sides and bad sides. It's good in a sense that it has a stable and fast-loading UI. Plus, it keeps you up-to-date with the latest news and updates. As for its bad side, it lacks in many aspects especially when it comes to providing the best user experience.
Conclusion and Download Link
I like Zite but I feel that it needs a lot of improvement. I'm also disappointed to know that its Android version isn't as feature-rich as its iOS version — it's not even optimized for tablets on Android, yet. Yes, it's simple to use plus you get to the freedom to choose the articles that you want to read but it's not the only app in the market that can do so. As a matter of fact, apps like Feedly and Flipboard can do so much better. Keep an eye on Zite but, in my opinion, in its current form, it isn't better than the competition.
Price: Free
Version reviewed: 1.2
Requires: Android 2.1 and up
Download size: 1MB
Related Posts