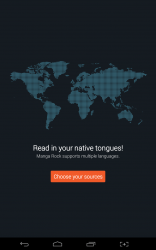 One of the best things to do on an Android phone or tablet is read. It seems a little silly when you say it that way actually, since you're almost always reading on a smartphone or tablet, but I'm talking about a different kind of reading. I'm not talking about the reading you do when you're browsing your Facebook feed, or checking the latest news and gossip columns. I'm talking about reading eBooks or comics, of course. Aside from the usual fantasy novel or comic book, I also like to read manga. If you're not familiar with manga, it's a kind of Japanese cartoon or comic. It's essentially another form of nerd candy, and there are tons of manga readers available in the Play Store. Manga Rock is one such manga reader, which includes a stylish design and quite a list of content.
What is it and what does it do
Main Functionality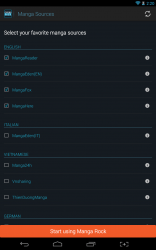 Manga Rock is a manga reader for Android, as the name implies. It makes use of a modern and holo-inspired UI, which is certainly appealing. It supports up to seven different languages, with various content sources for each. In addition, it includes a relatively extensive content list which means if you're a manga fan you should definitely be able to find something you like.
Pros
Comprehensive and stylish manga reader for Android
Content available in seven different languages
Reading support in portrait and landscape viewing modes
Filters and search functions so you can find your favorite manga
Add frequented titles to a favorites list, or download manga by chapters for offline viewing
Saves history for titles you've read, however this is not synched between multiple devices
Cons
Requires Android 4.0 and up
The advertisements can be a bit much at times, as banners can cover up manga art and full page ads can get annoying
Cannot choose storage directory for content downloads, and there's no free space check so you can fill up your storage very easily
It uses nearly 56MB of RAM while running
Discussion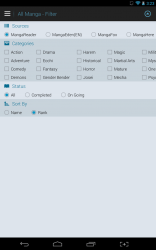 When you first start the application, after installing, you will be prompted to choose your preferred reading language or languages. The content sources differ depending on the language(s) that you select. For English, those sources include MangaReader, MangaEden, MangaFox, and MangaHere.
After choosing your language and sources, you're automatically taken to the list of related content. I can't speak for other languages besides English, but the list seemed endless. MangaReader offers 3096 manga titles, MangaEden offers 8105 and it's much the same for the other providers. Point being, there's no shortage of manga comics here.
The content list is quite long, so you can search for specific titles or you can enable various filters. Unfortunately, you can only look at one manga provider at a time, but that's alright because they all have a pretty large library. You can also filter comics by genre or by their current status, which either includes completed or on going.
When you select a title in the list, you're brought to a details page which provides you a short description and a preview of the manga cover art. The description also includes information like how many chapters each title has, current status, genres, and more. If the manga has multiple chapters –and most of them do- there is a tab that allows you to choose between any one of them, starting your reading session from the selected chapter instead of the beginning of the series. This is useful if you've been reading a particular manga for some time, and would like to skip older content.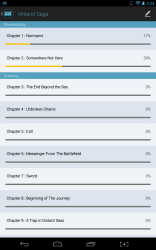 You can also read, favorite or download the manga title from the description page. When downloading manga, you can pick and choose which chapters to store on your device. This allows you to conserve storage, obviously. The manga download feature is specifically for offline reading, which otherwise requires an active internet connection.
There are advertisements in the free version, and while they can be annoying at times they stay out of the way for the most part. When reading manga, a banner is usually displayed at the bottom of the screen, and every so often a full screen ad pops up. You can remove the advertisements by purchasing the premium version of the app ($3.99).
It's also worth noting that a couple well known titles like Naruto and Bleach are unavailable due to copyright issues. This has absolutely nothing to do with the app itself, but keep it in mind if you're a fan of some of the more mainstream titles.
For reference, Manga Rock uses nearly 56MB of RAM while running, which is pretty hefty for a mobile app.
Conclusion and download link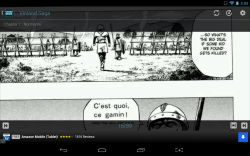 Manga Rock is an extremely capable and well-designed manga reader for Android. Content is available in several different languages, and the amount of content offered is staggering. It will save your place when viewing content, and you can also store favorite titles for later. If you want to do some offline reading, you can also download manga by chapters onto your device. Unfortunately, you cannot choose the storage directory for content and information is not synchronized between devices if you use more than one Android smartphone or tablet. And Manga Rock also uses a lot of system resources taking up a whopping 56MB of RAM. Still, those are all minor drawbacks and if you're a manga fan, I definitely recommend giving this app a try.
Price: Free
Version reviewed: 1.0.2
Requires: Android 4.0 and up
Download size: 4.3MB
Related Posts