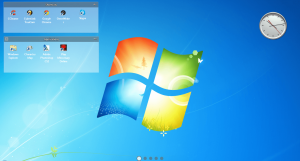 Some people are not just that good especially when it comes to keeping their desktops neat and well organized. There are even those who don't even bother to arrange their desktop icons. Well, it's a good thing that TAGO Fences is here to help keep your computer desktop free from clutter.
What Is It and What Does It Do
Main Functionality
TAGO Fences is a desktop enhancement application that is intended to organize everything that you have on your desktop including your folders, icons and desktop shortcuts. It is created and developed by Tago-Solutions. With this software, you will have the ability to place and sort your icons in these so-called "fences" and you will also be able to navigate through your multiple desktop pages.
Pros
Neat, customizable and very easy-to-use
You can create, resize, collapse, delete or hide your fences. You can also drag and arrange your fences to your desired location.
You can arrange or sort the icons inside your fences by name, type, manual or usage.
Supports multiple desktop pages – the number of pages is fixed to five
You can use hot keys to show or hide fences and desktop icons
Easy access – you can configure your TAGO Fences settings by simply clicking the icon on your taskbar
Will automatically hide your unused folders and shortcuts
The application will automatically load when Windows starts, which is good considering what this program does
It keeps your shortcuts and desktop icons synchronized. So if you delete the original file, the application will also delete the program's shortcut.
Cons
You cannot edit your multiple desktop pages. They're fixed so you cannot add or delete any of the default pages.
If not configured properly, the application will prevent your computer from shutting down.
You cannot change your wallpaper or desktop background unless you exit or terminate the program.
Discussion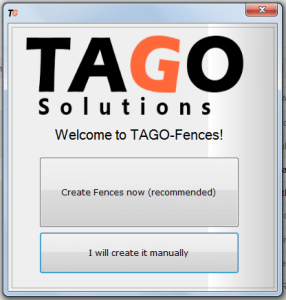 Upon installation, the program will ask you if you want to manually create your fences or not. If this is your first time using the program, then I suggest that you choose the recommended option. After that, TAGO Fences will immediately transform your desktop and you can actually notice the changes especially since it will automatically sort out your icons into their respective fences. You'll also be able to notice that instead of a fixed desktop page, you'll able to navigate through its multiple pages with modern-looking navigation icons that can be compared to your smartphone's home screen navigation. Furthermore, this software is very easy to use and the fences are like small windows that can be easily dragged and resized.
What's great about this program is that it's hassle-free. So there's no need for you to manually drag and drop your icons and folders to their respective fences. The program will do that for you plus it will automatically hide all of your unused applications and shortcut icons. Plus, you have to option to hide or delete the fences that you do not want to appear on your desktop. You can also rearrange the icons inside your fences. It either you sort them out by name, type, usage or manual. With the latter, you are free to drag and place the icons to your desired location.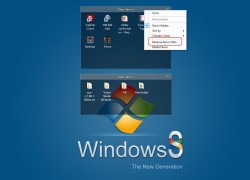 I also like the fact that this program is easily configurable. The icon for the program's settings is accessible via the taskbar so you can easily change or update your preferred options. You can even change the look or appearance of your fences. You're also free to change or modify the colors of your fences including its window title color and background color. You can also use hot keys to show or hide your original desktop icons. Not only that, the program also supports automatic syncing so every time you delete or uninstall a program, TAGO Fences will also delete the shortcut icon.
All in all, I could say that I really like this program but there are also a couple things that I want to point out. Like other applications, TAGO Fences also has its own set of drawbacks. When it's running, you are not allowed to change your wallpaper or desktop background. You need to terminate the program first to change your wallpaper and once you've done so, you need to restart it by clicking its installer. Fortunately, the program will preserve your custom settings so you do not need to redo the changes that you've made. In addition, the pages on your desktop are fixed. There's no option for adding and deleting pages so you can't really do anything about it.
When installing this software, you should also keep in mind that you might encounter some problems when it comes to restarting or shutting down your PC. This usually happens if you forget to terminate or exit the program beforehand. So make sure that you close it first before you turn your computer off. In addition, make sure that you have checked the appropriate boxes in the general preferences. If you want the program to automatically load every time your computer starts, don't forget to check the option for "Automatically open when Windows starts."
Conclusion and Download Link
Despite its notable drawbacks, I still like the fact that this software is easy to use and it certainly helps you keep your desktop free from clutter. So if you're one of those type of people that have a messy desktop, you better install this program. Besides, TAGO Fences is very light. It loads fast, it doesn't take too much space, and it helps you organize your desktop shortcuts in a more efficient manner. Check it out.
Price: Free
Version reviewed: 2.2.0.2
Supported OS: Windows XP, Windows Vista, Windows 7, Windows 8

Download size: 1.27MB
VirusTotal malware scan results: 0/46
Is it portable? No
Related Posts