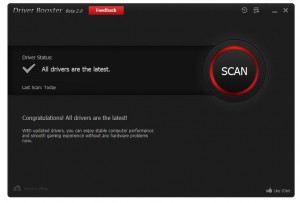 Updating drivers and staying top of frequent software revisions is one of the best ways to maintain performance on your PC. Most people don't realize that driver updates can actually improve performance when it comes to select hardware. Especially when you start talking about graphics cards, as Nvidia is always updating their software. It can be difficult staying on top of everything, especially when Windows doesn't always install the latest drivers for some of your hardware. Every once in a while there's an obscure component or two, that needs manual updating. Driver Booster is a Windows application from the same developers as Advanced SystemCare, IObit, which will scan your machine and tell you what drivers are out of date.
What is it and what does it do
Main Functionality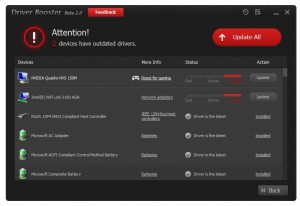 Driver Booster is a convenient tool that will scan your computer and let you know what drivers are out of date. Not only that, it will also direct you to the most current version as necessary.
Take note Driver Booster comes in two versions, Free and PRO. IObit is very cheeky and does not explicitly explain what are the feature differences between Free and PRO. From what I can tell, PRO has the ability to update all drives in one click and has "300% higher updating speed".
It is worth noting that we have reviewed v2.0 of this software, which is currently in Beta stage. If you don't want to use the Beta version, you can use v1.0. As far as we can tell, all the features mentioned in this review are found in both v1.0 and v2.0.
Pros
Scans for driver updates and lets you know if or when they are available
Will download and install updates, and create system restore points
Will "silently" install drivers, hiding all window prompts so you don't really have to do anything
Will automatically delete the installers for drivers after install
Can be to set to run quietly in the background to automatically update drivers as needed, and uses few system resources — 9MB of RAM usage
You can add various hardware components and devices to a blacklist if necessary
You can connect to the internet through a proxy if desired
Reasonably good accuracy in finding and updating out-of-date drivers…
Cons
…But still, it may not detect *all* out-of-date drivers — it may miss some
Ultimately, it does nothing special that cannot be done manually or via Windows Update, but it should be noted Driver Booster makes it easier to update drivers versus doing it manually and typically finds more drivers than Windows Update. However, it is still possible to live without Driver Booster and get your driver updates manually or via Windows Update.
Updating drivers falls into the category of "if it ain't broke, don't fix it" rather than "always keep them up-to-date". In other words, you shouldn't update drivers unless you have a specific reason to do so. This isn't an issue with Driver Booster itself but rather an issue with all driver updating programs.
Developer should be more clear about the differences between Free and PRO versions.
PRO version works on an yearly subscription basis, which is a bit annoying but understandable seeing as IObit needs to invest money into constantly keeping their driver database up-to-date
Discussion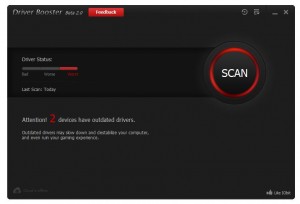 As soon as you start the application, you will be presented with the main menu. It's quite straightforward really as it displays your driver status, how many drivers are out of date and a single "scan" button.
Obviously, clicking on the scan button will start a system driver scan. On my desktop and laptop the scan took only a few short seconds. I can't speak for all machines, but the process appears to be relatively quick. If a driver is out of date, then the application will prompt you to download the necessary update, or updates, and then install them.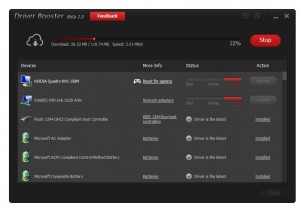 You can update each driver individually, or you can perform all updates at once. The program will then download the related files and install the drivers on your computer. Before installing –after downloading- the application will automatically create a restore point in case something goes awry. Since the Windows operating system already does this, it's not exactly an intuitive feature but at least it's there.
As soon as the driver updates have installed, the app will prompt you to reboot the system as necessary.
In addition, Driver Booster adds a notification icon to the system tray, which allows you to access the application settings, system restore function and check for software updates. It runs quietly in the background, and it's set to start with Windows by default. You can change this behavior through the application settings on the general tab.

In the app settings you can designate how often Driver Booster scans for updates, where the saved drivers are stored and whether or not they're deleted after a successful install, and add devices to a blacklist where any future software updates will be ignored. The blacklist or "ignore" tab is best for hardware where you need a specific driver version, like if you rollback to an older version for stability.
You can also setup the app so that it scans the internet through a proxy.
For reference, Driver Booster uses about 9MB of RAM while running, so it's fairly lightweight.
Conclusion and download link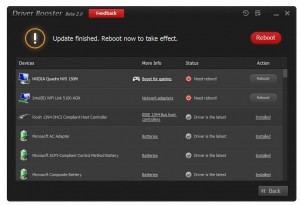 Driver Booster is a convenient application for Windows that will scan your system hardware and alert you as to whether or not any of your drivers need to be updated. If they do need to be updated, the application will handle the download and install process. It will also create a system restore point before installing any software revisions or updates.
Realistically, Driver Booster doesn't do anything special that you can't do manually if you're a power user. For that matter, it doesn't do anything different than what can be accomplished via Windows Update for many drivers. However, Driver Booster is relatively light on system resources, and it can be set by default to run quietly in the background and start with Windows so it makes the entire driver update and install process easier than normal… making it best suited for casual PC users. Check it out if you need such functionality.
Price: Free, $28.95 per year for PRO

Version reviewed: 2.0 (Beta)
Supported OS: Windows XP/Vista/7/8
Download size: 5.40MB
VirusTotal malware scan results: 0/46
Is it portable? No
Driver Booster Free homepage | Driver Booster PRO homepage
Related Posts