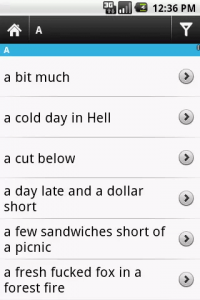 There are times when it becomes difficult to express your thoughts or emotions because you can't easily find the right phrase or word. This is where idioms come in handy because you can express what you feel in a simple yet peculiar manner. As for those who aren't that good when it comes to using idioms, you might want to keep a reliable English Idioms Dictionary on your tablet or smartphone.
What Is It and What Does It Do
Main Functionality
English Idioms Dictionary is a dictionary application for Android. It is created and developed by Kreatorz. Unlike the usual English dictionary apps, this application is specifically intended to give you the meaning of a particular idiomatic expression. All you need to do is to search its large database of English idioms.
Pros
Smooth and stable user interface, nice layout, easy to use
Features a large collection of idiomatic expressions
The idioms are being sorted in alphabetical order. The order goes from # to A to Z.
You can use the search tool to search for a particular idiom
Supports voice search – ask the app to define the meaning of certain idiom without typing the whole word or phrase on your keyboard.
You can search for a random idiom
There's an option for adding idioms to "Favorites"
Has a sharing option – you can share your idioms via Bluetooth, Gmail, SMS, Facebook, Twitter, IM, etc.
Has a Trivia section – every question has a time-limit. You're free to choose the number of questions that you want to answer. You're also free to adjust the time limit. The minimum time limit is 10 seconds while the maximum time limit is 30 seconds.
Works offline
Cons
Some of the idioms do not have any examples.
There's no list of related idioms.
Discussion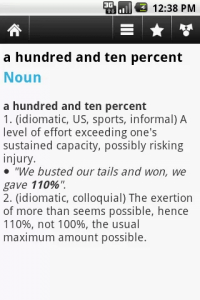 The English Idioms Dictionary app is very reliable. It's easy to install, it has a neat and simple user interface plus it's very easy to use. It actually caters to all types of user levels so there's no need for you to learn a lot of complex commands or controls. As soon as you open the app, you will immediately see its well-organized collection of idiomatic expressions. Everything is arranged in alphabetical order. At the top of the list, you will see all of the idioms that starts with a number and then it's followed by the idioms that starts with the letter A and so on.
If you tap the Settings button at the top-right corner, you will see a list of options. The "Favorites" icon is meant for viewing all of the idioms that you have bookmarked while the "Random" icon is intended to show a random idiom. This option is actually very useful especially if you do not have a particular idiom in mind. Let's say, you just want to improve your vocabulary so you decided to learn at least 10 idioms a day. This option will definitely come into play.
Meanwhile, the "Search" tool is meant for searching a particular idiomatic expression. What's great about this tool is that it supports voice search. Thus, you can easily search for an idiom without even typing the whole phrase or word on your keyboard. In addition, if the app notices that a certain idiom is not available in its list, it will search the web and once it finds the correct definition, it will give you the option to save or add the idiom to your collections. There's also the "Trivia" tool which automatically generates a set of questions. All of these questions are related to idioms and are meant to test your skills in defining the meaning of each idiom. Of course, you're free to choose the number of questions that you like plus you can also set the time limit. Just remember that each question must be answered correctly within the allotted time. If you fail to answer correctly, the app will reveal the correct answer.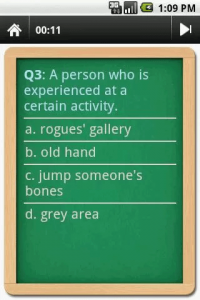 Aside from the aforementioned features, you're also free to use the English Idioms Dictionary app's quick share tool. So whenever you feel like sharing a certain idiom to your friends, just tap the "Share" icon.
Apparently, this app has a lot of good features plus it's pretty stable. So far, I haven't experienced any bugs or glitches and there were no unexpected forced closed errors. My only concern about this app is that some of its idioms lack the much-needed examples. Without these examples, you might have a difficult time using that certain idiom on your daily conversations. In addition, this app also lacks a list of related idioms. These elements may be considered as optional but are quite helpful especially when it comes to actual application. For example, if you search for the meaning of "break a leg", you might not find it appropriate for the thought that you are trying to express. So you will tend to find the right expression that would best describe your thoughts.
Conclusion and Download Link
It's quite great to see a stable and reliable application that lets you find the meaning or definition of a particular idiomatic expression. I find this app very useful especially for those who are not that well-versed when it comes to speaking or writing in English. Plus, having an English Idioms Dictionary app installed on your Android device is way more convenient than carrying a traditional dictionary. Check it out.
Price: Free
Version reviewed: 1.2
Requires: Android 1.6 and up
Download size: 1.2MB
English Idioms Dictionary on Play Store
Related Posts