Both the official BitTorrent client and the recently acquired uTorrent client have essentially become the same program, just with different logos. As such, the programs have not only the same features, but the same annoyances as well. One such annoyance is the toolbar installed in the program.
BEFORE WE BEGIN
This guide is for Windows users of uTorrent 3.3 or higher. This guide applies to all versions of Windows running uTorrent 3.3 or higher, including Windows XP, Vista, Windows 7, and Windows 8.) This guide will show you how to avoid the problematic toolbar that comes with the popular BitTorrent client.
HOW TO INSTALL UTORRENT (OR BITTORRENT) WITHOUT A TOOLBAR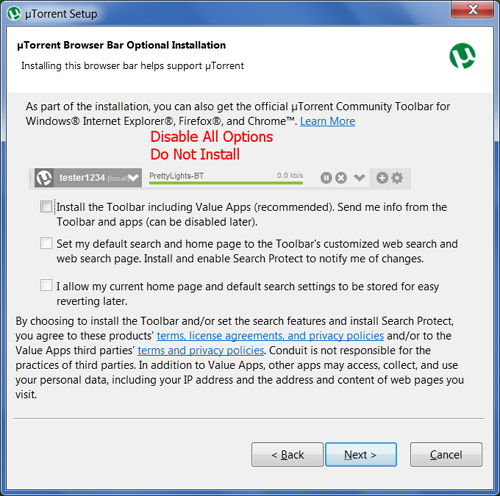 When you come to the screen above, all you want to do is to make sure all of the checkboxes are unchecked. It is as simple as that.
CONCLUSION
While the developers do make money through the installation and use of the toolbar, they tend to prey on unsuspecting users who just blinding click "next" through installations. The toolbar has also caused different speed and other issues on some users machines. So it is best if not installed. Enjoy!
[Image via TechSupportAlert]
Related Posts