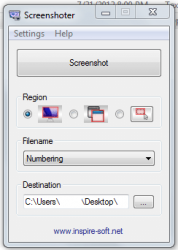 A screenshot program will always come in handy because you can use it to capture or document anything that's being shown on your computer screen. Speaking of which, there are a lot of reliable screenshot tools in the market that's primarily meant to take a snap of your screen. Let's find out if Screenshoter is one of them.
What Is It and What Does It Do
Main Functionality
Screenshoter is a screenshot tool for Windows that is developed by Kevin Schneider of InspireSoft. It's a very simple utility program that lets you capture a screenshot of your entire computer screen, of a predefined rectangular area, or of a currently active window. All of this can be done in just a single mouse click.
Pros
Simple UI, very easy to use
Takes screenshots in just a single-click – after clicking the "Screenshot" button, the image will be automatically stored to your desired location
You can set your preferred screen capture region – full screen, active window, predefined or manual selection
You can automatically set the filename by date or number. You can also opt to manually enter the name of your screenshot.
Features a "Compact Mode" – can be easily minimized to the taskbar or system tray area
You can set the default image format to JPG, PNG or BMP
Multi-language support
Portable – works without installation
Lighweight — less than 300KB download
Cons
Is very simple — lacks many features other screenshot programs you have:

No dialog box for saving files – except for the custom filename option, the software will not inform you that your screenshot has been successfully saved or not
Doesn't support batch capture – you can only take one screenshot at a time
Can't capture scrolling window
No support for hotkeys
Can't output as GIF
No output image compression options
Discussion
It is important to keep in mind that Screenshoter is only meant to carry out those basic screen capture tasks. It may not be as advanced as those other screen capture tools in the market but it pretty much does its work and it will help you save a lot of time since you no longer need to copy and paste your screenshot to your image editor. It's hassle-free in a sense that it does everything in a single-click of a button.
Moreover, the process of taking a screenshot using Screenshoter is very easy. Just open its window, press the "Screenshot" button and the image will be automatically stored to your desired location. If the program is minimized, you can still take screenshots by simply pressing the "Print Screen" button on your keyboard. After that, the image will be saved to your specified folder. Of course, you should set your preferred settings first before you start taking images.
This way, you can set the tool to carry out whatever it is that you want it to do. You can even set it to only take a screenshot of a certain window or region. There's also the option for changing your preferred default image format and file location. As for the latter, the default location for saving files is your desktop but if you want, you can specify a different folder.
One of the advantages of using this tool is that it doesn't obstruct your work. So if you're in the middle of typing or playing a video, you can easily take a screenshot without loading another program or image editor. Plus, all of your images will be neatly organized and stored in one location. Not only that, this program even supports multiple languages so if English is not your preferred language, you can set it to German, Spanish, French, Dutch, Russian, Italian, etc. The only problem with this feature is that it doesn't support other languages like Japanese, Chinese, Filipino or even Korean. Anyways, this is just a minor concern.
So far, I didn't have any trouble using this software. It's just that it could have been better if it has a batch screen capture tool. This way, it would be a lot easier to take screenshots of simultaneous events such as live broadcasts or web conferences. Furthermore, the program won't notify you if your screenshot has been successfully saved or not. It would be nice to see such feature wherein there's a small box or text that will appear every time you get to save a new image.
Conclusion and Download Link
While Screenshoter is only intended for handling simple or basic screenshot tasks, I still find it very useful especially when taking images of games, websites, webcam conferences, etc. It's ideal for use by those that want to occasionally take screenshots, especially since it is small and portable. But it isn't for power users. I recommend this program for users who only need basic screenshotting capabilities. For everyone else who would like more advanced functionality, check out dotTech's review of best free screenshot tools for Windows for excellent, feature-filled and free screenshot programs.
Price: Free
Version reviewed: 1.81
Supported OS: Windows 2000, Windows XP, Vista and Windows 7
Download size: 281KB
VirusTotal malware scan results: 0/46
Is it portable? Yes
Related Posts