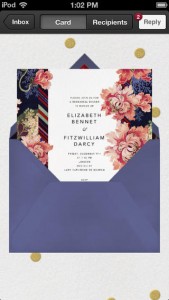 The old expression goes, "never judge a book by its cover." And yet, we do it all the time. Whether it's actual books, movie posters, or an ad, we make our decisions based on the outward look of something. And more often than not, those outward appearances do give us a good idea of what we're getting into. Case in point: I downloaded Paperless Post based sheerly on it's cute icon and swanky screenshots. Was I led astray by its glitzy trappings, or does this app have substance to back up its good looks?
What is it and what does it do
Main Functionality
Paperless Post boasts "the web's most beautiful cards and invitations." You can use this app to manage your RSVPs and keep tabs on your social calendar, and communicate with your friends and family.
Pros
Create a new account or sign in with Facebook
Share and view event-related photographs
Communicate with private messages or through public comments
Quickly review event details such as date, time, and location
Cons
Ability to create new cards and invites temporarily suspended while the developers work out some kinks, and will not be available until this Fall
Perhaps as a result of this, you really need to use the iPhone app in concert with the Paperless Post website if you want to get anything done other than reviewing what you've done in the past or viewing invites people have sent you
Discussion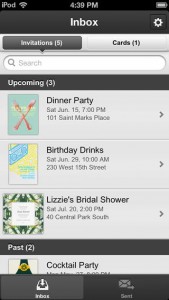 Just updated on July 31, Version 1.8.2 of Paperless Post boasts a ton of bug fixes. Also, you can now get all of your invites in one place. One big change is the loss of card creation. The developers are currently tweaking this part of the app, and state on the App Store that "You should be able to design cards on the iPhone (and forthcoming iPad app) sometime this fall."
Lacking that bit of core functionality, it's kind of hard to assess Paperless Post. The interface is very nice, and things are broken down into very simple, easy-to-view chunks of information.
The settings are fairly robust, allowing users to change their email, Push notification preferences (something I liked, since it meant I didn't have to go stumbling about in the iPhone's settings area and could deal with it from the app itself), Version data, and a button to easily contact app support.
While the app itself does feel a bit hobbled at the moment, the Paperless Post site itself does boast some very attractive invites. They are truly gorgeous, with something to suit any party, any mood, and any personal style.
Conclusion and download link
Even if you like the idea of Paperless Post, you might not be totally sold on the current iteration of the app. I'd advise that if you like this service, you work from the website until the fall, when the ability to design cards is restored to the iPhone app. The cards themselves are great, and I have a feeling that the iPad app for Paperless Post is gonna be awesome.
Price: Free
Version reviewed: 1.8.2
Supported OS: Requires iOS 5.0 or later

Download size: 21.0 MB
Paperless Post on Apple App Store
Related Posts