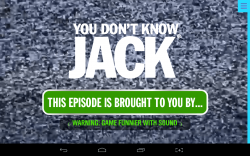 You Don't Know Jack is one of my favorite party games, and yes it's a video game. I used to own it way, way back on PC, and I got the re-release for Xbox not too long ago. If you're not familiar with it, it's basically a tongue-in-cheek trivia game that mimics TV game shows. You play versus friends and family, answering some of the zaniest questions you'll ever see in a mockup game-show. It's a lot of fun, and when you're hanging with friends it can definitely be a riot to play. Imagine my surprise when I found out that You Don't Know Jack is now available for Android. It's been redesigned specifically for mobile platforms in a freemium model. Let's find out if it's worth the download and install, shall we?
What is it and what does it do
Main Functionality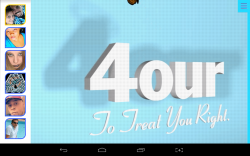 You Don't Know Jack is a trivia game at it's very core, but it also features game-show elements portrayed in a very silly manner. If you've never played it before, consider it a parody of modern game shows on TV. Not only does the demented host make very sarcastic yet humorous remarks, silly sound effects and lighthearted commercials also play in the background. The show even has fake sponsors with really weird names that will make you chuckle. Now it's been adapted for play on mobile devices and tablets, and it uses a freemium game structure. Because it's heavily multiplayer based, it also uses social features to pair you up with opponents.
Pros
It's You Don't Know Jack in a compact, and more social form
You can play with friends and try to best their score through Facebook, but you do have to login with your account

If you don't want to login with Facebook you can play as a guest, progress is still saved locally

You don't need to spend money in order to play or enjoy the game, but at some point you will experience [real] advertisements
Lots of achievements to earn, additional episodes to unlock, and booster items to collect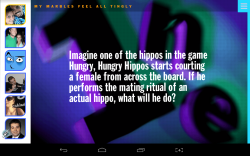 Cons
Requires Android 4.0 and up
Does include [real] advertisements and deal offers, but you can play one ad-free game per day for no additional cost
Freemium items are available which can be purchased with in-game booty, you can also purchase booty with real money (some will see this as a con)
As far as I can tell the infamous "screw" feature has been removed [insert sad face here]
Discussion
You Don't Know Jack has undergone quite a few changes in the new mobile device and tablet adaptation. When all is said and done though, it's the same tried and true game that you'll find anywhere else, albeit with some extra features thrown in for good measure.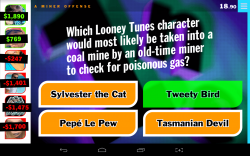 On other platforms, You Don't Know Jack has longer games in excess of ten rounds. You can also play with up to three other people locally, making it a great party game. You Don't Know Jack for Android (it's also available for iOS), is different in that respect. You don't play with friends locally, instead you play with friends online socially. The social features mirror something you would find in Words with Friends or a similar game of that manner.
Unlike the regular You Don't Know Jack on consoles and PC, the mobile version features advertisements and freemium pay-to-play limitations. After signing into a social account, in this case through Facebook, you can only play one free game per day. As you play you will unlocked achievements and rewards, and you will also earn coins. In YDKJ speak these coins are referred to as "booty," and they're used to purchase in-game content. Now keep in mind here, if you use up your free game of the day that does not mean you can no longer play the game. In fact, you can continue playing the game, but you will be presented with real ads (not the fake ones) unless you purchase a game with coins you've earned.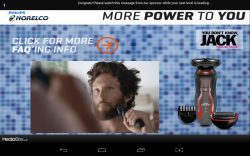 The main thing here is that you're not restricted to viewing ads all the time, but at some point you probably will have to view them, so be prepared.
If you've never played YDKJ before, it's pretty simple really. Just like a modern game show, the disturbed show host will ask players trivia questions. The catch is that a lot of these questions have a zany or unorthodox subject. Every once in a while there's a mini game thrown in the mix things up, like Dis or Dat, or Jack Attack. Ultimately, the game is a lot of fun to play and the mobile version is no exception to that rule. In the mobile version, you only play five rounds, and the last round is always a Jack Attack. This wasn't a bad design decision though, because playing a lengthy game while you're on-the-go looking to waste a few minutes here and there could be an issue for some.
There are also new episodes to play, which are added regularly to the game. Some feature questions from prominent comedic talents, while others feature a particular theme like "Spring Break Wet Trivia," "Red Carpet and Drapes," or "Jack the Halls".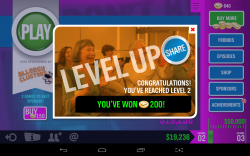 You can also purchase enhancement boosters with booty that you earn in-game. This is where the freemium aspects really come into play. The perks or boosters provide you with distinct bonuses and advantages that you can use during the game. Some enhance your score, others eliminate a penalty from a wrong answer, and one booster even allows you to purchase an achievement if you don't want to invest time to unlock it- this can be used for those particularly pesky ones.
You can buy new sponsors, which are also unlocked as you play games.
The single most important question is whether or not you have to spend money to enjoy the game. The answer to that is no, you don't need to spend any money at all and that's exactly how a freemium game should be. Sure, some players can purchase boosters to give them an advantage during gameplay, but it's a silly game either way. A lot of players will get horrible scores anyway, so the boosters just add a little extra leverage.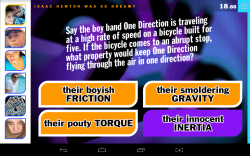 Trust me when I say, this is by no means a super competitive game. Once you play it for the first time you'll realize the fun. In fact, on the console and PC versions it's a lot more fun when players get a horrible score because Jack –the game show host- will react to it accordingly. The same holds true for the mobile version. Either way you still earn booty just for playing, so you're never completely shafted on that front.
If you don't like signing into games with a social account, or don't want to authorize your Facebook account- no problem! You can play as a guest and your progress will be saved, but stored on the device. That means if you switch devices or clear the app cache you'll lose progress. Not to mention if you want to hand the device to someone else to play, their progress will interfere with yours.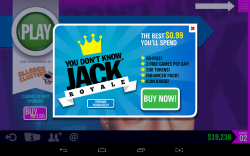 After every game you'll be subjected to an ad for five seconds, but you can dismiss the ad when the counter has finished. You'll also be subjected to an offer or two, which will allot you extra booty if you partake.
For some folks, there will be a lot to dislike in this game especially with the ads, freemium features and social support. For others, it will provide hours of fun. It really just depends on what kind of games you like to play. If freemium features make you sick to your stomach and want to throw your device, then you should probably stay away from this one. Otherwise, you can have a great time playing the game and you don't have to spend any money.
Conclusion and download link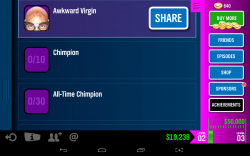 A lot had to change in You Don't Know Jack in order for it to make the jump to mobile devices and Android. It now features advertisements, freemium items and social account linking through Facebook. The game has also been trimmed down to just five rounds instead of the usual fifteen or twenty-one. Still, there's a lot of fun to be had here and you don't actually have to pay money in order to play the game. You get one ad-free game per day, and then you can either play with [real] advertisements throughout, or you can pay with in-game booty. Yes, you can earn more booty by playing the game. If you sign-in with your Facebook account it tracks achievements and progress, leveling you up RPG style. You can also play as a guest if you don't want to bother logging in. All of your progress will be tracked as a guest, but it will be lost if you switch devices or clear the app cache. If you play as a guest and decide to login with your social account, you can transfer all progress over as a one-time only bonus.
If you've ever played You Don't Know Jack before, you'll feel right at home with the mobile version. I'll admit the freemium features and advertisements take some getting used to, and they can get in the way every now and then, but it doesn't totally ruin the game- something that often happens when games make the jump to freemium format. Then again, if you absolutely loathe everything that freemium and advertisements stand for, you should probably steer clear of this game.
I'll just say it right now, no matter what you believe you probably don't know Jack- get used to hearing it.
Price: Free
Version reviewed: 1.0.12
Requires: Android 4.0 and up
Download size: 49MB
You Don't Know Jack on Play Store
Related Posts