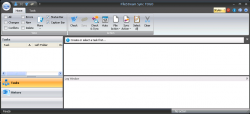 It is recommended by pretty much every tech expert that you should regularly backup your files. So, to help you find an excellent yet freeware backup program, dotTech has a review on best free file and drive backup programs for Windows. However, sometimes you don't need to require backing up capabilities as much as you require the ability to sync. For that purpose dotTech also has a review on best free file and folder sync programs for Windows. But if you aren't happy with any of the sync offerings discussed on dotTech thus far, FileStream Sync TOGO is another option. Let's see if it is worth your time.
What Is It and What Does It Do
Main Functionality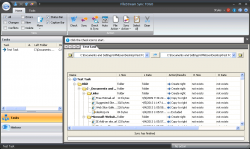 Sync TOGO is a file and folder sync program that allows you to perform one way syncs, two way syncs, and one way backups.
Pros
Can perform one way sync (aka sync files from source folder to target folder), two way sync (aka sync files from source folder to target folder and from target folder to source folder), and one way backup (aka backup files from source folder to target folder)

NOTE: The difference between a sync and backup is a sync checks files for changes and only copies new and modified files; on the other hand, backup copies all files regardless of if they have been modified or not.
NOTE: Two way sync is known as 'mirror' inside Sync TOGO

You can create as many sync/backup tasks as you like
Works with internal hard drives, external media (USB flash drive, external hard drive, etc.), and network shares — you can sync folders from any internal drive/external media/network share to any internal drive/external media/network share
Can set a sync/backup task to automatically occur when external device is connected, every time the program starts, or every X hours/X minutes
Gives you the option of if you want deleted files to be deleted during sync or not
Allows you to control the speed and computer resources devoted to Sync TOGO during file copy procedures
Has the ability to exclude read only files, hidden files and folders, system files and folders, empty folders or you can add your own custom exclusion filter to exclude custom files, file types, or folders
Also has the ability to add your own include filter
You can individually exclude files and folders in target folder to not be included in each sync run
You can execute multiple tasks at a time with Sync Container
Is portable — can be "installed" to USB flash drives, external hard drives, etc.
Not very heavy on computer resources — less than 20 MB of RAM used plus less than 10% CPU (on a single-core CPU) used while syncing
Good speed (although not blazing fast either)
Cons
Displays bugs when trying to delete tasks ("Encountered an improper argument", "Failed to delete task XXX") and does not immediately delete tasks. However, when you close/reopen Sync TOGO, the tasks are deleted.
Make sure to always "Check & Sync" instead of just "Sync" after files have been changed because will not properly sync changed files otherwise
Hasn't been updated in almost two years; the latest version at the time of this writing — v2.6 — was released in Sept 2011
Is portable but is the type of portable program that must be "installed" first
"Installs" in the root directory (e.g. C:/) of whatever drive you install the program on. This is a non-issue if installing on external drives but is really poor convention when installing on internal drive — no program should install directly to C:/.
Must be always-on and running if you want to use any of the automatic running features — does not have the ability to use something like Windows Task Scheduler to make itself automatically run when a sync needs to occur.
Is unable to make itself automatically open when an automatic sync needs to occur, so if you close Sync TOGO then automatic syncs will not happen
Does not have the ability to minimize to system tray, which is unfortunate because this is a type of program someone may want to keep always-on in the background and having an always-on program sit in the taskbar is annoying and wastes space
Discussion
Using Sync TOGO is relatively easy, and there is a detailed Help file that comes with the program if you are ever confused (NOTE: When Help file says "is check off" it means if the checkbox is checked. You will understand what I mean when/if you read the help file).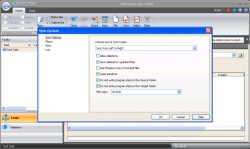 When you first run Sync TOGO, you will need to create a new task, which can be done from the round Office-like button in the top-left corner. Once you create a task, you must select the source and target folders (the folders can be on your local hard drive(s), networked shares, or folders located on external media such as USB flash drive or external hard drive). Next you need to setup sync options (which include selecting what type of sync or backup you want to do, modifying task settings such as if files should be deleted and Windows Shadow Copy used for locked files [both these options are turned off by default, you will need to enable them if desired], automatic task settings, and exclude/include filtering); this can be done by pressing the button located in between the folder selection fields. Finally, let 'em rip — using the Check then Sync buttons or the Check & Sync buttons runs the task and performs the sync/backup you just setup. (NOTE: The difference between Check and Sync is Check analyzes source and target folders to see what actions need to be taken while Sync does the actual syncing. The Check & Sync button does both actions with the press of one button. Be sure to always Check before syncing if files have been changed, otherwise Sync TOGO will not properly sync files.)
Once a task has been created, you can manually execute it whenever you want or it will automatically execute depending on the settings you selected. Do take note, however, that if you set a task to automatically occur every X hours/X minutes or set a task to automatically happen when an external device is connected, then Sync TOGO must be running continually in order for that auto task to happen. If Sync TOGO is closed, then the auto task will not happen.
With Sync TOGO you can setup as many tasks as you like. And if you ever want to execute multiple tasks at the same, you can do so by going to Tools -> Sync Container.
And that pretty much sums up the main functionality of this program.
If you are interested in its computer resource usage and speed, I can tell you this much: Sync TOGO is not heavy on computer resources (less than 20MB RAM typically used) and its speed is good but not blazing fast (e.g. took roughly 10 seconds to sync 96 files of 20.1MB in size).
Conclusion and Download Link
Despite the deletion bug I mention above, FileStream Sync TOGO works as intended — you will be able to successfully sync your files with this program. And the best part is that it is portable, meaning you can take it with you on USB flash drives, external drives, etc. However, I don't recommend FileStream Sync TOGO. Why not, you ask? For two reasons.
Firstly, FileStream Sync TOGO has not been updated in almost two years. The current version at the time of this writing is v2.6 and was released in Sept 2011. True, FileStream Sync TOGO works just fine right now, aside from the one bug I ran into. However, I don't know about you but if I am going to purchase a shareware program, I don't want to purchase a program that hasn't been updated in years because the chance of updates in the future is very bleak.
Secondly, the features of FileStream Sync TOGO are good enough for syncing but they aren't great — you will find these features in pretty much all sync software… including the freeware ones. Plus there are some notable drawbacks in FileStream Sync TOGO when it comes to user-friendliness, such as the inability to minimize to system tray and the inability to run itself (if the program is closed) when an auto sync needs to happen.
Instead of FileStream Sync TOGO, I recommend you check out any of the free sync software we mention in our review of best free file and folder sync software for Windows. The software mentioned in that review are free and awesome.
Price: $29.95

Version reviewed: 2.6

Supported OS: Windows XP, Windows Vista, Windows 7, and Windows 8

Download size: 2.9MB
VirusTotal malware scan results: 0/46

Is it portable? Yes

Related Posts