One popular form of attack used by malware is disabling Window's components such as the Command Prompt, System Restore, and Task Manager. Re-enable is a simple portable tool that allows users to easily re-enable Windows' RegEdit, Command Prompt, Task Manager, Run, Folder Options, and System Restore: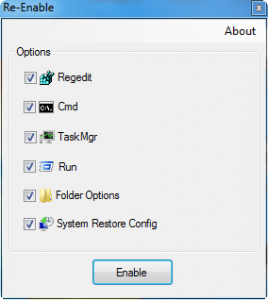 Using Re-enable cannot get any easier. Simply download the program, run it, select what you want to re-enable, and hit "Enable".
Re-enable comes in two forms: one is a portable 36.7 MB download; the other is a 64 KB download but requires .NET Framework to be installed. Just a word of warning: a-squared Anti-Malware claims the non-.NET, portable one contains malware; however Avira did not detect anything, and Softpedia vouches it is 100% clean so the a-squared detection is probably just a false positive.
Last but not least, currently Re-enable is v1.00; in the next v2.00 the developer plans on adding the ability to re-enable many other Windows' components: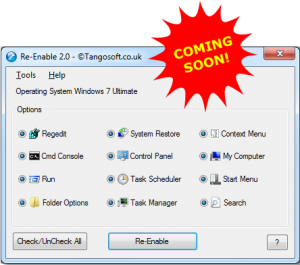 Screenshot by the developer
You can grab Re-enable from the following links:
Version reviewed: v1.0.0.0

Supported OS: Windows XP, Vista, Win7

[Download link – 36.7 MB portable version]
[via Raymond.cc]
Related Posts