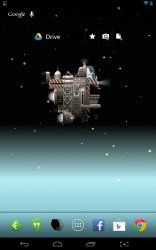 One of the coolest things about the Android OS is that you can set a live wallpaper on your homescreen. If you don't already know what that means, you can have a fully animated background with special effects or changing elements. The stock wallpapers are neat, especially the one that cycles through various galaxies. Of course, there's a whole trove of options available in the Google Play store if you want to download third party wallpapers. The Nebulander is a unique live wallpaper that is also totally interactive, in that you can alter the elements from right on your homescreen.
What is it and what does it do
Main Functionality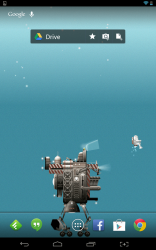 The Nebulander is a live wallpaper, that allows you to interact with a flying spaceship in several different ways. The version in this review is free, but there is also a premium version which features more characters (spaceship models). You can do things like drag the ship around the screen, alter the speed of the craft, and even resize objects.
Pros
Interactive live wallpaper with a space theme (double geek points)

You can control the spacecraft with simple gestures and taps
There are a few customization options like color, size and speed

Decent on system resource usage, at 21MB of RAM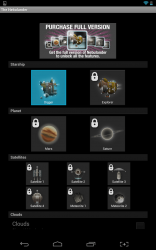 Cons
Live wallpapers have a tendency to use a lot of battery power
The premium version ($2.45) includes an additional spacecraft, two passing planets (Saturn and Mars), and six different satellites
Discussion
No, we don't normally feature live wallpapers in reviews here at Dottech, but I found this one particularly interesting. The reason being, that it's entirely interactive.
It's important to note that running a live wallpaper on any Android device can drain the battery considerably. It requires extra power and performance to run the software in the background, so just keep that in mind if you decide to use this wallpaper.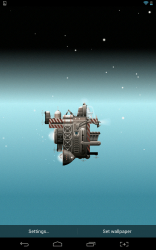 Also, this wallpaper is purely for entertainment, it doesn't actually do anything practical.
After installing the wallpaper you have to activate it through the Android settings. It does install a shortcut that will allow you to set the wallpaper right away by tapping on it though. Once activated, the wallpaper will display in the background behind all of your widgets and app shortcuts.
The really cool thing about the Nebulander is that the wallpaper is totally interactive. I would like to see some kind of mini-game offered which allows you to pass some time. As of now, the wallpaper only plays various animations and nothing else.
You can interact with the wallpaper, or spaceship several different ways:
Double tap the screen to zoom in or out
Tap the screen once to deploy a drone
Swipe left or right to change the speed and horizontal orientation of the craft
Swipe up or down to change altitude respectively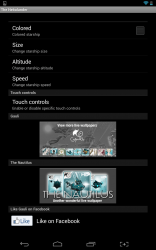 If you guide the craft to the lowest possible altitude it will automatically deploy landing gear and eject the pilot. Although this isn't anything mind bogglingly amazing, it's a pretty neat easter egg of sorts.
What's quite interesting is that some of the gestures used to interact with the spacecraft are also necessary to navigate through the Android UI. When you switch homescreens by swiping through them, the spacecraft also keeps up.
Instead of droning on about how I feel about the interactive wallpaper I'll just leave it at that. For a final reference, The Nebulander uses about 21MB of RAM while running. It is affected by task-killer apps, which means if you constantly like to clean your RAM you'll have to restart the live wallpaper more than once.
Conclusion and download link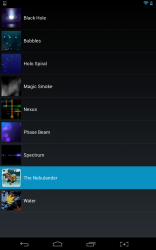 The Nebulander is a unique live wallpaper for Android that allows you to interact with various elements while it's running; essentially, you control the spacecraft in the wallpaper for a little added entertainment. The idea is neat itself, and I would love to see some kind of mini-game implemented. How great would it be if you could play a simple little game right on your homescreen? It would definitely help pass the time when you're waiting around for stuff. Of course, the tradeoff here is that while it's running it will use up system resources and slowly drain your battery. Even when the screen is off, live wallpapers tend to drain the battery faster than usual.
From the perspective of productivity or usefulness, this live wallpaper is truthfully a miss. It doesn't do anything practical and is only for entertainment purposes. As for entertainment value, however, it is one of the better live wallpapers I have used. So if you love space themed wallpapers, and live wallpapers too, you should definitely check it out.
Price: Free, $2.45 (Pro)
Version reviewed: 1.0
Requires: Android 2.2 and up
Download size: 9.3MB
Related Posts