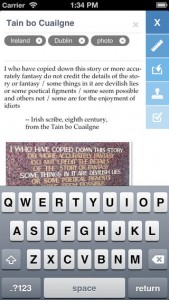 It shouldn't be so hard to find a good notetaking app. And yet, narrowing down the wide array of notetaking apps is hard. Do you want an app where you can write naturally with a stylus or fingertip, or do you prefer to type out your notes? Do you need pure notes, or do you want to embed media in along with your text? If your answered yes to the latter part of those two questions above, then a notetaking app like As Noted may fit the bill nicely.
What is it and what does it do
Main Functionality
As Noted is an iPhone app with the ability to create feature-rich notes. Your notes can include geotags and images, as well as text and other multimedia attachments.
Pros
Attractive interface
Take note from your iPad, iPhone, or with a browser extension for Chrome
Plays nice with Dropbox and Evernote
Easily creates bulleted lists or numbered to-do lists
Use tags to categorize your work and find what you need with ease
Quickly add current date and title to your work
Cons
App wants access you to current location
Doesn't appear to be any way to adjust font style or type (though you can adjust the size easily with pinching gestures.
Discussion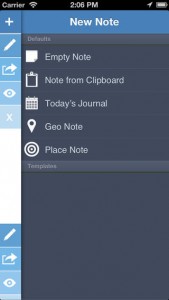 With just five main buttons, setting commands in As Noted is really simple. You can easily add attachments, images, or new shots from your camera. This makes this a great app for photographers who are scouting locations for a shoot, for biologists and wildlife spotters who keep a field journal, or designers looking for inspiration.
Adding tags and today's date is also very simple. I really enjoy the to-do list functionality. With a tap of a button, you can make to-do lists with boxes next to them, though it didn't seem like you could check them off.
The interface is so sleek, and so easy to navigate. The design is very intuitive, and the overall look of your finished notes is so clean and professional. The ability to tag your work is a great way to keep things organized. For a free app that is so new on the scene, As Noted feels highly polished. There were no snafus, no glitches, and no crashes when running this app through its paces.
If you're looking for the sort of notetaking app where you use a stylus or your fingertips to write, this is probably not the best choice for you. However, it is a great tool for taking notes that are studded with multimedia attachments.
Conclusion and download link
If you aim to create notes that read more like a field guide than a composition notebook, As Noted lets you create really lush notebooks. If you want to take notes that are studded with images, As Noted is a really solid option. For an app that's still on its first iteration, it's a very solid tool. I can't recommend it highly enough, despite a few quibbles here and there.
Price: Free
Version reviewed: 1.0
Supported OS: Requires iOS 5.0 or later

Download size: 2.1 MB
Related Posts