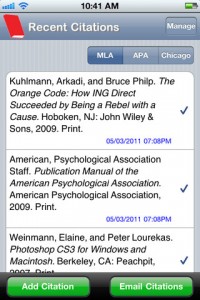 Back to school season is in full swing, and soon keyboards all over the country will be ringing out with the furious tapping of millions of high school and college students, all looking to finish essays and term papers. One of the most frustrating parts of learning to write a good essay for school is often mastering the style manual's guide to citing your references. I'm not I'm not the only one out there who got an A- instead of an A+ because I made a mistake on my Works Cited page. If you want a painless way to create citations, EasyBib is worth considering.
What is it and what does it do
Main Functionality
EasyBib lets users scan a book's bar code, and then automatically generates the correct citation format for MLA, APA, and Chicago bibliography styles. The citations can then be easily emailed to you to add into your paper's bibliography and/or works cited page.
Pros
Simple, straightforward interface
App includes optional flash mode to brighten up your shots and make it easier to read barcodes in low light conditions
Generates citations for three types of bibliographies
Keeps a list of recent citations for you to review
Cons
Hasn't been updated since its initial launch on the App Store back in 2011
Scanner misidentified books during testing: a copy of "Sabriel" by Garth Nix was scanned in and listed as C.S. Lewis's "Voyage of the Dawn Treader"
Does not appear to include internal citation style notes, as used in MLA style
App's camera functionality takes a long time to focus
This is kind of obvious, but still bears repeating: this app scans barcodes. If you are referencing an older book that doesn't have a barcode on its book jacket, you're out of luck in terms of scanning. However, you can use the search function to find the book you need.
Discussion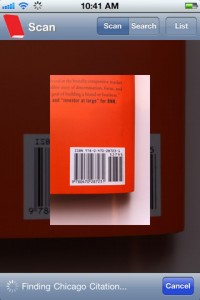 To test this app, I picked four random books on different subjects: a children's book, a novel, a graphic novel, and a cookbook. The first book scanned incorrectly, the second didn't scan at all. The third book scanned correctly, as did the fourth. A 50 percent success rate isn't exactly gangbusters, but it could have been bad luck of the draw.
That being said, I still think this app is pretty worthwhile. You can search for a title, if your book lacks a barcode. The interface is really straightforward. And you can use it to create citations in three different styles, making this great for a variety of schools and coursework.
However, the fact that this app hasn't been updated in two years speaks volumes. I encountered some glitches using this app, and they don't seem likely to be resolved any time soon, given how long this app had lain fallow.
Conclusion and download link
It's hard to give a recommendation about whether this app is worth downloading or not. On the one hand, the app makes the job of formatting citations really painless. On the other hand, it only does so when it reads a barcode correctly, or it can read it at all. However, since this app is free, it doesn't hurt to check it out. Just be prepared for any malfunctions you might encounter.
Price: Free
Version reviewed: 1.0
Supported OS: Requires iOS 4.0 or later

Download size: 0.6 MB
Related Posts