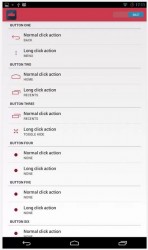 One of the defining elements about the Android OS, is that on most devices include software buttons of some kind just above the lower bezel. The buttons are generally the all-familiar back, home and menu keys along with any other manufacturer defined shortcuts. On my Hisense Sero 7 Pro tablet for example, the navbar includes one unique software key which allows me to take screenshots at any time. Though useful, the navbar isn't always necessary. When it's not required, it just sits there taking up usable screen real estate. Ultimate Dynamic Navbar is an Android application that will allow you to hide the software keys from view until you actually need them.
What is it and what does it do
Main Functionality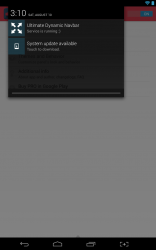 Ultimate Dynamic Navbar is an Android application that allows you to hide the software keys when you're not using them. The buttons are also customizable in that you can move them into a position you prefer. To call upon the navbar menu you can either swipe up from the bottom edge of the screen or tap on a trigger button that you place on your homescreen.
Pros
Dynamic and customizable navbar that completely replaces the stock software key tray
The new navbar disappears below the bottom bezel when not in use
You can customize the buttons and their long press actions
It's not too bad on system resources (14MB of RAM while running)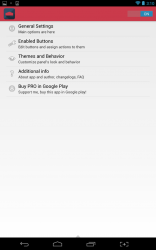 Cons
The premium version includes more customization options and up to seven buttons, the lite version only includes three
It modifies the build.prop system file to disable the stock navbar, and you will need root access to do this
Discussion
This application requires Superuser access which means if your device is not rooted you won't have any luck with it.
There is a premium version of the app available which offers a little more customization in regards to the navbar.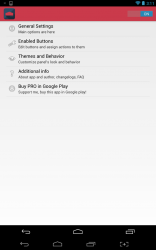 The way this application works, is that it disables the stock navbar and replaces it with a third party one. That's precisely why it requires root access, because it modifies the build.prop system file in order to disable the stock navbar. The developer warns that modification of said file can do harm to your device, but promises support if you email him directly. I did not require any such correspondence as the navbar was disabled and then reenabled just fine, without any hitches. Of course, you need to reboot the device any time the build.prop file is altered before any changes come into effect. The image on the right shows what happens if you don't disable the stock navbar.
You can add up to seven different buttons to the new navbar, but unfortunately you're confined to just three in the lite version. In the premium version you can also apply a custom theme and color arrangement to the navbar, something that's not available in the lite version.
With all this talk about the premium version, it's probably a good time to mention that it's only $3. While that price tag is certainly reasonable, some may not want to front the cash and that's okay because the lite version is more than capable.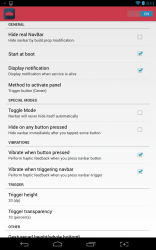 In the application settings you can manage several crucial options like starting the app at boot, displaying a notification in the system shade when active, and more. You can also configure how the navbar is called upon, or more specifically how the trigger button is positioned (left, right, center, entire bottom).
When the navbar is not being used it will automatically close, vanishing below the bottom bezel of the screen. This opens up more of the screen for use, and it's great for watching media content or playing games. You have all that space, might as well use it for something constructive.
The navbar trigger buttons remains active on top of all other windows. That means even when the software keys are hidden, you can still call upon them from within a fullscreen app.
Probably the most important thing of note, is that Ultimate Dynamic Navbar uses few system resources while running- about 14MB of RAM to be exact.
Conclusion and download link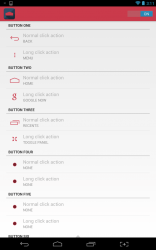 Ultimate Dynamic Navbar is a desirable application for Android, at least for anyone that's ever wished they could make those pesky software buttons disappear. It handles the mechanic in a brilliant way, by hiding the navbar when you're not using it and allowing you to call upon it right when you need it. It's quite reminiscent of the Windows Start Menu in that it vanishes out of view while it's not being used. While running it uses not very many system resources, and you can customize the buttons and appearance in the premium version of the app. In the lite version these customization options have been removed, but the price tag for the premium version is only $3 and it's definitely worth it. The only downside is you need root access for this app to work properly. Overall, a great app to check out.
Price: Free
Version reviewed: 0.9.5.1
Requires: Android 4.0 and up
Download size: 225.5KB
Ultimate Dynamic Navbar on Google Play
Related Posts