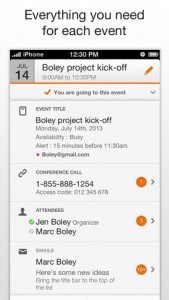 The best scheduling and calendar apps are the ones that work in concert with other apps, creating a one-stop shop for all your calendar needs. After all, who wants to have to shuffle between multiple apps to track down meeting or flight info? Tempo Smart Calendar is worth checking out, because it centralizes your calendar-viewing needs and pulls in associated documents for events in your schedule.
What is it and what does it do
Main Functionality
Tempo Smart Calendar is an iOS app that aims to make scheduling easier for users. Tempo users can benefit from this "intelligent" app's ability to retrieve flight info, documents, meeting info, conference call passwords, and directions.
Pros
Absolutely stunning, professional, and intuitive user interface
Acts like a virtual personal assistant, keeping all your meeting, schedule, trip, and biz info in one place
Plays nice with a whole host of email clients: Gmail, Apple Mail, Yahoo, Exchange, and IMAP
Syncs with Facebook, Foursquare, LinkedIn
Displays common file formats like Word, Excel, Powerpoint, and PDF
Learns about you and your preferences the more you use the app
Able to grey out past events under your preferences
Cons
Developer note from the App Store: "Tempo 1.0.8 does not yet offer support for iOS 7 (beta). We plan to support this in our next release"
The more you use Tempo, the smarter it gets. On the flip side, this means that your early interactions might not be as intuitive as you might like, because the app is still getting to know you
Some users have reported that not all Facebook contacts are syncing (this isn't a Tempo issue, but due to a change in Facebook, no longer syncing users who don't have contact info)
Discussion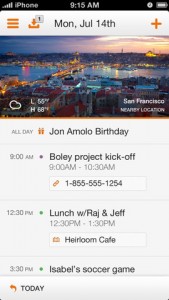 Tempo Smart Calendar has a simply gorgeous interface, an interface that you can make even more perfect for yourself by customizing the daily photo. Tempo doesn't take long to become tuned in to your personal idiosyncracies, because it learns as you use it.
The core calendar functionality is totally solid in Tempo Smart Calendar. I love how centralized everything is: you don't need to jump between apps to retrieve conference call logins, or load up another app to get directions to your meeting location. This really is a one-stop shop for your personal agenda, and it's an amazing tool for reviewing your schedule.
New features in Version 1.0.8 include the ability to set multiple alerts for a single event. In addition, there are more options than ever before for setting up your recurring events. Arguably the nicest touch (for people who travel a lot for business, anyway) is the ability to set meeting times for different time zones, which will eliminate a lot of headaches for jet setting users, I should think. Also of interest to frequent flyers: Flight Card info is now a lot more comprehensive and easy to view.
Conclusion and download link
Tempo has a rabid fan following, and it's not hard to see why. Like all "learning" apps, it does have a bit of a curve before it's at peak personal customization. That being said, this elegant app is a great "personal assistant" tool that really does centralize all your schedules and meetings and whatnot. It's attractive and functional, and well worth your time.
Price: Free
Version reviewed: 1.0.8
Supported OS: Requires iOS 5.0 or later

Download size: 13.1 MB
Tempo Smart Calendar on Apple App Store
Related Posts