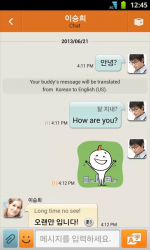 Nowadays, a lot of Android users are hooked to mobile messaging apps. One of the main reasons why these apps are so popular is because you can easily chat with your friends from all around the world for free. No need to pay for those expensive overseas texts. As for ChatON, it's a cool messaging app with lots of animated emoticons.
What Is It and What Does It Do
Main Functionality
ChatON is a mobile messaging application for Android and it is a product of Samsung Electronics Ltd. What this app does is that it lets you chat or broadcast your messages to your buddies for free. With this app, you are not just limited to sending free text messages. You can also send photos, videos, animated messages, voice messages, documents, emoticons and anicons. This app also supports group chat. A separate app installation is needed to enable this app's voice and video chat support.
Pros
Nice and user-friendly interface
You can easily start using this app by logging in using your Samsung account. If you're yet to create one, you can activate this app via phone verification
Works on almost any type of Android device
Supports one-on-one chat, group chat and message broadcast
You can share various kinds of media contents such as photos, videos, voice recordings, documents, etc.
You can use emoticons, animated emoticons "anicons" and animated messages
Features lots of options for user customizations – custom fonts, backgrounds, notification ringtones, chat bubbles, stamps, templates, etc.
Custom "Buddy" profiles with info tabs, profile photos and buddy interaction ranks. You can also post your thoughts via status messages.
You can connect your ChatON to at least five different devices – smartphone, tablet, PC, etc.
Has a built-in translate tool – automatically translates your chats
Supports auto and manual data backup
Cons
By default, this app doesn't support voice and video calls. If you want to activate this feature, you need to download and install a separate application.
Does not have a status indicator – you won't be able to know if your buddy or contact is online or not
It is difficult to know if your messages were successfully sent and seen by your contacts
This should be obvious but you can only communicate with people who also have ChatON
Discussion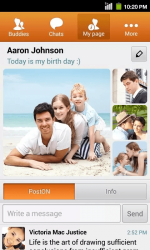 ChatON is very easy to use. Upon installing the app, all you need to do is to log-in using your Samsung account and it will automatically update or sync your contacts. As for those who do not have a Samsung account, you can opt to activate the app via phone verification. Anyways, its chat mechanics are very similar to other mobile messaging apps so it's easy to start a chat with your buddies or contacts.
What I like most about this application is that it brings your whole mobile chatting experience to a more personal level. It also features a lot of customizable options. You can send or download a lot of animated emoticons. Furthermore, the animated emoticons that this app offers is similar to Line and you can even browse its huge collection of downloadable anicons. That's not all. You are also free to customize or update your chatroom and display settings. You can change the background, the font style/size and even the chat bubbles. You can even use the app's "walkie talkie" feature to contact your buddies via pre-recorded messages.
So far, this app manages to give a pleasant and enjoyable mobile chatting experience. It allows you to easily connect with your friends. Just don't forget that this app won't work if you are not connected to the internet. Plus, both you and your contact must be on ChatON. My only concern when it comes to using this app is that it's difficult to tell if your buddy is online or not. There's no status indicator plus it is also difficult to tell if the messages that you sent were successfully delivered to your contacts. It would be really great if Samsung would add these features in its future app updates.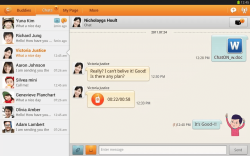 It's also a downer that this app requires a separate app installation just so you could make use of its call and video chat options. Aside from that, the said features will only work on devices with the latest Android OS versions (Android 4.0.3 and up). Anyways, the rest of the app's features are good enough to compensate for its shortcomings.
Since ChatON is a cross-platform application, you can use it even if you do not have your Android phone. Just link or connect your account to your other devices regardless if it's a PC or a tablet. For example, if you want to use ChatON on your PC, just log-in to its official web application at web.samsungchaton.com.
Conclusion and Download Link
ChatON is great for users who prefer instant messaging over web chats and voice calls. While most other instant messaging apps will do the same thing ChatON does — i.e. send instant messages to friends and family — ChatON is a very fun app and you will definitely enjoy it especially if you like sending out a lot of cute emojis and animated emoticons. This app may lack in certain aspects but it is definitely something that you should try out… if you can convince your friends and family to try it out with you.
Price: Free
Version reviewed: 2.7.103 
Requires: Varies per device
Download size: Varies per device
Related Posts