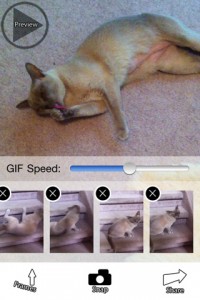 One of my writing gigs involves putting together GIF recaps of popular TV shows. I generally use a web-based client to convert video clips into GIF files. The web-based service I use lets you adjust the frame rate, and also lets you add text to the final GIF. While looking around for a better solution than the web-based service I use now, I stumbled across a relatively new app called GIFMaker. If you like to make GIFs for work or pleasure, this tool might be right up your alley.
What is it and what does it do
Main Functionality
GIFMaker is an app for making GIFs from still images.
Pros
Share the final product via email or Tumblr
Fairly intuitive interface
No limit on size or length of the GIF
Preview GIF and delete any unwanted frames
Toggle bar makes it easy to set and adjust GIF speed
Cons
Not ideal for those who prefer to make GIFs by converting video files
You can't adjust the GIF speed while in preview mode
Ad-supported
Generation of GIFs can take several minutes, depending on size
On occasion, the snapshot button can have a bit of a delay, or doesn't go off at all
Discussion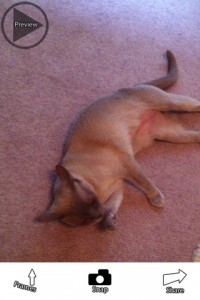 GIFMaker is a fairly limited app, with fairly limited goals. This app is basically designed to have you take a series of still images, and turn them into a GIF. It's almost like a digital zoetrope machine.
There are four main control buttons. Tap the camera icon to take a snapshot. Tap the lower left button to view all your frames at once and delete any that you don't want. Tap the arrow in the upper left corner to preview your GIF. Tap the right arrow to share.
Your enjoyment of GIFMaker will depend on what kinds of GIFs you like to make. If you like to make GIFs from photos of stuff in your life, this is a good app. But if you're a TV fan who loves to make TV show GIFs to put on your Tumblr, this might not be quite what you're looking for. You can't import video, or stills from your camera roll.
Still, despite it's single-mindedness, GIFMaker is a solid little workhouse of a tool. It can be a bit laggy at times, but it's a solid B+ tool for making GIFs on your iPhone.
Conclusion and download link
For a first effort, version 1.0 of GIFMaker gets a lot of things right. The interface is decent, the controls are simple, and the GIFs are nice enough. I do hope later versions of the app will let you make GIFs from both still images and video. It would also be nice to see a few minor usability improvements here and there (especially the ability to edit a GIF while looking at a live preview.)
Price: Free
Version reviewed: 1.0
Supported OS: Requires iOS 4.0 or later

Download size: 5.5 MB
Related Posts