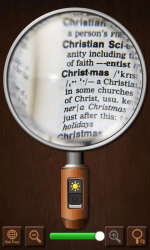 Have you ever thought of the many things that you can do with your Android device? Through the help of apps, you can turn it into a LED sign board, a handy flashlight or even a spy camera. Now what if you want to use it to magnify or enlarge certain objects? With the help of Smart Magnifier, you can literally turn your smartphone into a handy magnifying glass.
What Is It and What Does It Do
Main Functionality
Smart Magnifier is a simple magnifying glass app for Android that is created and developed by Smart Tools co. Just like what its name suggests, this app is meant to magnify or enlarge any object so that they would appear larger than their actual size. Take note this does not enlarge contents on your device — it enlarges real objects, it works by zooming in with your rear camera. You can use this app if your smartphone's rear camera has a built-in zoom in/out function.
Pros
Simple yet responsive UI, easy to use
Can enlarge any image or object – the app's maximum zoom capacity will depend upon the features and quality of your phone's camera
Enhances the appearance of your zoomed objects – uses your camera's built-in auto focus and LED flash
You can adjust the zoom quality by simply pressing the zoom in/out buttons as well as the seek bar, you can also make use of your phone's volume control buttons
You can adjust the zoom view layout to landscape or portrait mode
Allows you to take a screenshot of your zoomed images
Cons
The portrait mode is not properly aligned so if you want to look at your zoomed object, it will always appear in the wrong direction – the image will always be shown in vertical mode
You cannot adjust the brightness or contrast of your zoomed objects
Doesn't have any built-in sharing buttons – you cannot directly send or share your screenshots via Bluetooth, Gmail, Facebook, etc.
You cannot hide the zoom controls so it's difficult to get a full view of what you are viewing
Discussion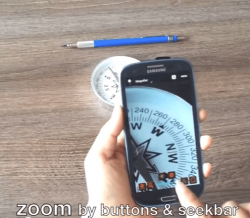 Smart Magnifier comes in handy especially when you need to enlarge a certain image or object. It's also a very useful tool especially when you're reading a book and you happen to encounter a word or text that is too small for you to read or decipher. Thanks to this app, there's no need for you to carry a bulky magnifying glass wherever you go.
Just load the app on your Android tablet or smartphone, focus your device camera on the object that you want to zoom, press or adjust the seek bar and that's it. You get to zoom anything that you want to zoom and you can even take a screenshot of the zoomed objects that you are currently viewing.
It is also important to note that this app is reliant on your device camera so its zoom quality will greatly depend on the capacity and built-in camera features of your smartphone. It will also make use of your camera's built-in zoom, auto focus and LED flash. So if you have a smartphone with a high-quality 8MP camera, the quality of your zoomed images will appear more vivid and clear than those that you've zoomed using a low-end camera phone.
Still, I can't help but feel disappointed that the app's portrait view doesn't work properly. The landscape view works fine but whenever I switch it to portrait view, the objects will appear like they've been rotated to a 45-degree angle. In addition, there is no option that will allow you to hide the controls especially when you are in the middle of viewing your zoomed object. There is also no option for automatically sharing your magnified shots via Bluetooth, email or SNS.
This app is good but what bothers me is the fact that this app is just a modification of your phone camera's built-in zoom, auto focus and LED flash functions. Perhaps, in a way, it makes it easier for you to make use of the said functions as you take its magnifying glass approach. Still, that idea just doesn't convince me. It could have been better if this app offers something that we cannot readily find on the default camera application.
Conclusion and Download Link
This app basically does what it is supposed to do, it has a responsive UI and it is very easy to use. It is a handy app especially if you are among those who do not have a perfect 20/20 vision but it is not the best magnifying glass app that you can find in the market. It has some drawbacks that affect its overall functionality such as disoriented portrait view. Because of these reasons I don't recommend Smart Magnifier. If you want to try a better magnifying glass app, I suggest that you check out this app called Best Magnifying Glass.
Price: Free
Version reviewed: 1.1
Requires: Android 2.2 and up
Download size: 1.3MB
Related Posts