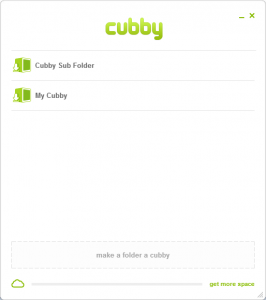 There are already a lot of free cloud storage services in the market but it seems that there is one user application that aims to stand out from the crowd. This particular cloud-based application is called Cubby and with it you can have at least 5GB of cloud storage space – for free.
What Is It and What Does It Do
Main Functionality
Cubby is a cloud storage user application that is developed by LogMeIn, Inc. It offers up to 25GB of free cloud storage space. When you sign up, you instantly get 5GB of space and then you get to earn the rest of the allotted free space through referrals. With this user app, you can easily save and access your files in the cloud. No matter where you go, you are also free to access your files on other devices such as your smartphone or tablet.
Pros
Clean, well-design and responsive UI
Easy to use, saves any type of file – music, document, photos, videos, etc.
You get 5GB of free space after sign-up and up to 20GB of free space through referrals – 1GB per head (25GB max)
You can save your files into your cloud-based "My Cubby" folder
You can turn any folder into "cubbies" even without saving them into your "My Cubby" folder
Allows you to keep unlimited revisions of your files and documents
You can share your Cubby files to anyone via direct link
Allows user collaboration – this will give others the ability to edit or update your files or folders
You can instantly sync your files – simultaneously updates all of your files and cubby folders on all of your linked devices
Offers free mobile apps for smartphones and tablets – supports Android and iOS
Secure – uses AES 256-bit encryption
Cons
Its mobile application does not support other platforms such as Windows Phone, BlackBerry OS, etc.
Its web interface does not support 2-step verification
You cannot make use of its Cubby Locks and Unlimited Direct Sync features unless you upgrade to Pro – $3.99 per month
There is no other way to get more free space aside from referring other users
Discussion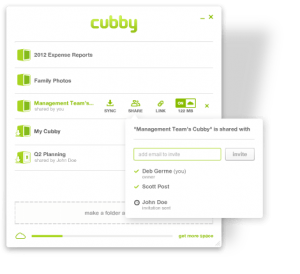 Cubby is a very reliable and secure cloud-based storage application. However, it also has its pros and cons. Still, its features can be at par with today's most widely-used cloud storage services such as Google Drive and Dropbox.
With Cubby, you get to store your files in the cloud. All of your files will be secured using the standard AES 256-bit encryption. By downloading and installing the app on your PC, you automatically get 5GB of free cloud storage space and you can even have more by inviting other users. For every referral, you get 1GB of free space.
The maximum amount of allotted space for free users is 25GB. That is already enough for individual users but if you still want to have more, you need to upgrade to Cubby Pro for a monthly subscription fee of $3.99 per month. Unfortunately, the only way for free users to get more cloud storage space is through referrals. You cannot get extra space by doing simple tasks such as liking the app's official Facebook page, etc.
When using this application, all you need to do is to save your files into your "My Cubby" folder. As a matter of fact, the mechanics for saving files into the cloud is the same as any other cloud storage service. It is very simple to use. What makes this app different is the fact that you do not need to upload or transfer all of your files into your "My Cubby" folder. If you want to store them in the cloud, just turn any folder into a Cubby folder. Any folder that you turn into a Cubby folder will be automatically stored in the cloud.
That's not all. You can also access your file's unlimited versions so there's no need for you to redo everything just because of a single mistake or error. You can even allow other users to view or edit your files or folders. It's just that with the free version, you cannot do things like securing your folders with a password. This feature is only available for Pro users. Plus, this app's web interface does not have any option for enabling two-step verification so your account is still vulnerable. Aside from that, Cubby only offers mobile apps for iOS and Android. So if you are using a device with a different platform, you can still access your cloud storage but through the web application.
Functionality wise, Cubby works well and it is very reliable. It has some downsides but it also has a lot of good features. One of the best things about this app is that it lets you turn any folder into a "cubby" and you can easily collaborate with other users.
Conclusion and Download Link
I like Cubby but I don't think that it will be my first choice for cloud storage. It has a lot of competitors and there are a lot of reliable cloud storage services out there with a larger amount of free storage space, such as Google Drive with 15GB. Still, it's good especially if you are looking for a secondary or backup cloud storage service. Also keep in mind that this app's free version is apparently intended for home users so if you want to get better features, you might as well upgrade to Pro. You could also check out these best free cloud storage services for Windows.
Price: Free, can be upgraded to Pro for $3.99/month
Version reviewed: 4.7MB
Supported OS: Windows 8, 7, Vista, XP, Windows Server 2003, 2008, 2012
Download size: 4.7MB
VirusTotal malware scan results: 0/46
Is it portable? No
Related Posts