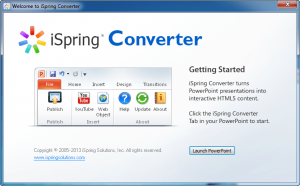 PowerPoint presentations have literally changed the way we work (and sometimes play). They are great for a wide variety of uses… except for viewing on the internet and on mobile devices. (Yes, I know there are apps on mobile devices that can play PowerPoint, but if you don't have a powerful device, it will lag.) So what can you do to rectify this issue? How about convert your PowerPoint presentations into HTML5, which is not only playable on the internet but also works extremely well on desktops and mobile devices alike? That is exactly what iSpring Converter allows you to do.
What Is It and What Does It Do
Main Functionality
iSpring Converter is a PowerPoint to HTML5 converter — it converts PowerPoint presentations into HTML5 format, a format that can be viewed in any modern internet browser on any modern mobile device or desktop/laptop computer of any operating system.
The following is an example of a PowerPoint presentation turned into HTML5:
Pros
Converts any presentation type (PPT, PPTX, etc.) into HTML5. If PowerPoint can open it, iSpring Converter can convert it.
Is built essentially as an add-on to PowerPoint, making it extremely easy to access directly from within Microsoft PowerPoint
Keeps all videos, audios, animations, etc. when converting
Can insert web objects into presentations
Can insert YouTube videos into presentations
You can control how playback works: automatic or on-click, the duration of each slide, loop presentation, enable or disable zoom and gestures, quality/compression of images and videos, and more
You can control size of presentation, including if you want it to automatically fit the size of the window it is being viewed in
Can convert all slides or just select slides
Can opt to not show presentation player, sidebar, and/or notes in output
Can output presentation locally, FTP, or email
Doesn't touch your original PowerPoint file — creates a new HTML5 version, you still have access to your original PowerPoint
Supports publishing as SCORM 1.2, AICC, BlackBoard 9.x, and SCORM 2004 courses
Outputs HTML5 presentations in HTML format, ready to simply be uploaded to whatever website you want to show it on
Cons
Oddly, enough, requires Adobe Flash Player (10 or higher) for Internet Explorer to be installed. If you don't have this installed, the program's conversion window won't open when you try to convert. This is a bit odd because this is a PowerPoint to HTML5 converter, not PowerPoint to Flash. Having Adobe Flash Player installed for another browser, like Firefox, will not work.

NOTE: iSpring Converter will download and install the latest Flash Player during installation (see last install screen). Be sure to uncheck that option if you don't want to do that.

No offline help
Since it is essentially an add-on to PowerPoint, You need to have Microsoft PowerPoint installed to use this — you can't have other presentation software
The developer claims the program allows you to preview HTML5 presentation before you actually output. However, I was unable to find the preview option. I did see a preview box but that didn't do anything. And a preview playback window did open for me… but it opened after I already outputted. Maybe I'm doing it wrong or misunderstanding what the preview feature does.
Discussion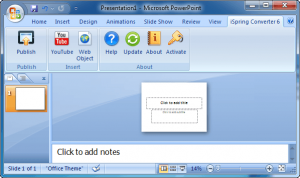 PowerPoints are great… until you have to share them on the web or view them on mobile devices or send them to someone who doesn't have a program capable of viewing PowerPoint presentations. The great thing is, there is a web standard called HTML5 will is capable of playing PowerPoint-like high quality presentations on the web. And HTML5 works with any modern internet browser, regardless of platform — this includes mobile devices.
iSpring Converter allows you to easily convert your PowerPoint presentations to HTML5 presentations, which you can then upload onto any website you have access to. If you don't have access to a website to which you can upload the HTML5 presentation, you can simply send the outputted HTML5 presentation files to whomever you wanted to share with and they can play it on their computer with their internet browser (as a local file) — no need for any office software installed to view.
iSpring Converter is very easy to use and works as an add-on to Microsoft PowerPoint. Of course this means you must have Microsoft PowerPoint installed in order to use iSpring Converter, but Microsoft PowerPoint is still the dominant presentations force in the world today (despite the rise of free office suites) so this shouldn't be an issue for most people. Plus, I'm guessing if you can afford to pay $197 for iSpring Converter, you can afford Microsoft PowerPoint.
To use iSpring Converter to convert a PowerPoint presentation to HTML5, simply open that PowerPoint presentation in PowerPoint and click the Publish button under the iSpring Converter tab or menu. You will then be given options that you can customize: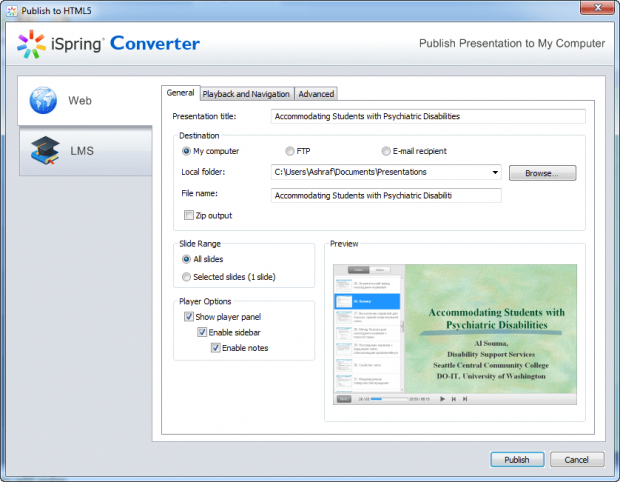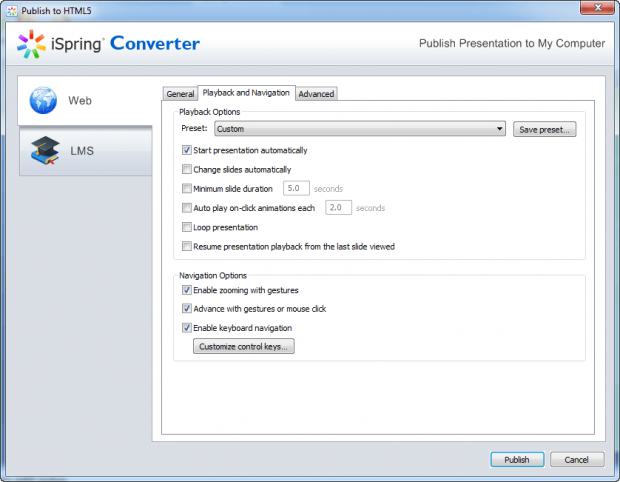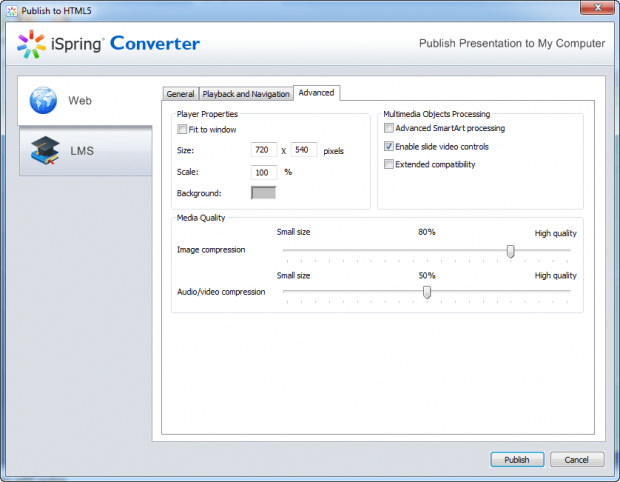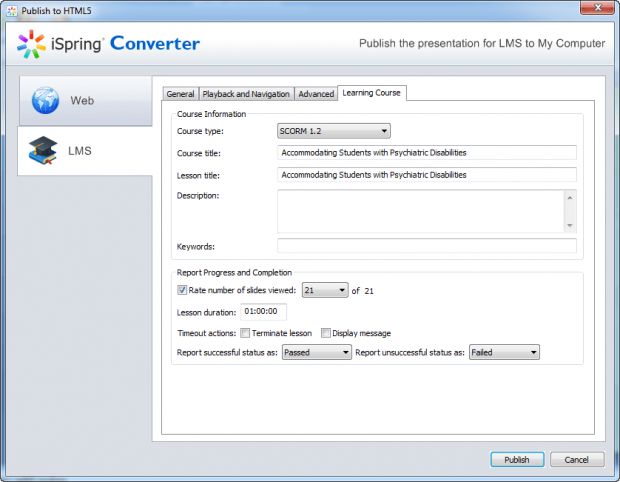 If you are unsure what options to select, simply leaving the program at default settings will work just fine for most people.
Once you publish your presentation, you will see an HTML file with a data folder; that HTML file + data folder is your HTML5 presentation. If you double-click on the HTML file, it will open in your default web browser and play your presentation. You can now email this presentation to whomever you want and they can play it by double-clicking the HTML file, or you can upload it onto your website. It is as easy as that.
One oddity I ran across with iSpring Converter is that it requires Adobe Flash Player (10 or higher) for Internet Explorer to be installed. If you don't have Adobe Flash Player for Internet Explorer installed, as per my tests, the program won't work. I initially did not have Adobe Flash Player for Internet Explorer installed and when I hit the Publish button to convert PowerPoint to HTML5, nothing came up. After installing Adobe Flash Player for Internet Explorer, however, everything works just fine. The kicker is Adobe Flash Player for any other browser won't work — you specifically need it to be installed for Internet Explorer.
It is a bit odd a PowerPoint to HTML5 converter would require Adobe Flash Player for Internet Explorer. Not sure why this is — all I know is that it is.
Conclusion and Download Link
iSpring Converter is a great program for converting PowerPoint presentations to HTML5. Unfortunately, it does only work if you have Microsoft PowerPoint installed (so people with an alternative like OpenOffice will need to look elsewhere). And, for some odd reason, it does require you to have Adobe Flash Player (10 or higher) for Internet Explorer installed. However, if you can overcome those two issues, then this program is worth getting if you need to convert PowerPoint to HTML5. Just be warned: it isn't cheap… but high-quality niche software often aren't.
Anyone that wants PowerPoint to HTML5 functionality but doesn't want to pay $197 to get it can check out SlideGo PowerPoint to HTML5 Converter; it is freeware but not as feature-filled as iSpring Converter.
Price: $197

Version reviewed: 6.3.0
Supported OS: Windows XP/Vista/Windows 7/Windows 8

Download size: 36.2 MB

VirusTotal malware scan results:
Is it portable? No
Related Posts