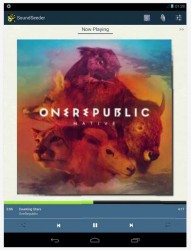 There are hundreds, if not thousands of media players available in Google Play. One could say that the Android platform is a treasure trove of media playback. That being said, it seems silly to review said apps when so many have come before. Of course, that is unless the app in question is offering something new, something a little different. SoundSeeder Music Player follows along the same lines as the proprietary Samsung Group Play app, which allows you to stream and share music to other Android devices. The main difference is that this app works with a whole slew of devices instead of just Samsung's models, so long as they have the SoundSeeder Speaker app installed.
What is it and what does it do
Main Functionality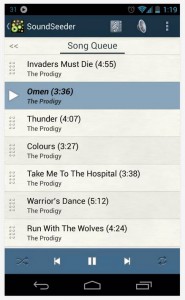 SoundSeeder Music Player is a unique media player that allows you to stream audio content to other Android devices, as long as they have the SoundSeeder Speaker companion installed. The system actually works with devices running Android 2.2 or higher (although you'll need a device running Android 4.1 or up as the host). The idea is that you can synchronize media content between several devices to allow for a surround based listening experience. It's particularly useful if you're hosting a party and you want to play the same music all throughout your house with different audio systems. Hey, not everyone can afford to line their house in speaker wire, or purchase wireless audio equipment!
Pros
Media streaming app that simultaneously plays audio content across multiple Android devices
It's a useful setup if you're having a party and want synchronized playback in multiple areas of a house or venue (you'll probably want audio equipment connected though)
Very minimal design and easy to use
Wireless setup is quick and painless, provided all devices are connected to the same Wi-Fi network and the unique network name in the app settings is entered correctly
You can control connected devices from the host, that includes changing the volume, disconnecting speakers remotely and more
Relatively light on system resources, uses 18MB of RAM while running
Cons
Free version only allows one connected speaker at a time, and up to 4 minutes of playback between the speaker and host (after that you have to restart playback manually, but you can keep using it)
You have to install both the SoundSeeder Music Player and SoundSeeder Speaker (on satellite devices), although it's necessary it is a limitation
The host device must be running at least Android 4.1 or higher, the speakers only need Android 2.2
Discussion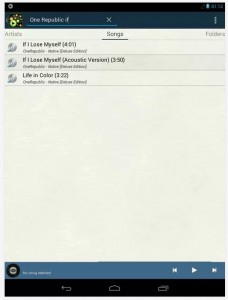 Thanks to the Galaxy S4 and the big stink everyone made when it was released –including the mainstream media- I'm sure you already know all about Sammy's proprietary software offerings. One of them just happens to be Group Play which allows Samsung owners to share content wirelessly with anyone that has one of the select Samsung models.
This app fundamentally does the same thing, only it operates between Android devices in general. More specifically, it has nothing to do with the brand of phone you have.
To use the system properly you will need both the host app and the speaker app installed on separate devices. The host device must be running at least Android 4.1 or higher, but you can use any older devices you have lying around as a receiver. This app exclusively works over a Wi-Fi network, which means all devices have to be connected.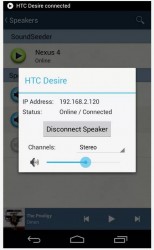 SoundSeeder is a media player, but it's incredibly minimal. There are no additional features like an equalizer, visualizations, and more. Although it does support a wide variety of audio formats including MP3, MP4, M4A, AAC, OGG, 3GP and FLAC files.
The process of connecting devices is also just as simple. In addition to being connected to the same Wi-Fi network, all devices must be using the same network name which can be assigned to the host device in the app settings. It works exactly like a Workgroup in Windows. After the unique network name has been entered, the devices will automatically connect with one another. That's it, there are no other connectivity options to bother with or dialogue menus to navigate through. It "just works".
There's a small speaker icon seated on the homescreen that will take you to a list of connected devices. Essentially, this is the short and sweet way to monitor what phones and tablets you have connected to the host. If you're browsing on the host, you can also connect or disconnect speakers with the tap of a button.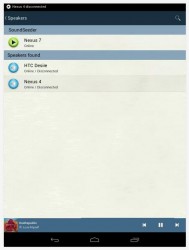 All you have to do is choose your music on the host device and start playback, the app will handle the rest. Provided you have a decent Wi-Fi connection available to all of the devices, playback on satellite units will begin instantly. The streaming quality is impressive, and there's little to no latency or lag issues during playback. I did notice when tracks change every now and then one of the connected devices will fall out of synch for a split second, but it immediately catches up.
That app works great. That being said, there are some pretty hefty restrictions for the free version. First, you can only connect up to one additional device. That means you can only have one speaker in the free version. Even worse, there's a four minute limit for playback after which the host will stop streaming content to the connected speaker. This can be remedied simply by restarting playback, but that can get tedious especially if you're throwing a party.
For reference SoundSeeder uses nearly 18MB of RAM while running. That puts it in a relatively lightweight category especially for a media player of this caliber.
Conclusion and download link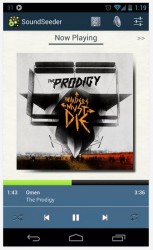 SoundSeeder is a useful streaming app for Android. As long as you have the host and speaker clients installed on all devices you wish to connect, you can stream audio content in realtime. You could use it to stream music to every room in your house or apartment during a party. Or maybe stream a podcast or other audio file. Unfortunately, the free version of the host only allows up to one additional connection and up to 4 minutes of playback between the speaker and host. Once the limit has been reached, you need to restart playback manually. This can get very tedious especially if you're trying to play host. The pro version is $3.89 and it can be purchased directly through the main app. The client or speaker app is completely free, however.
Check out this app if you want the ability to stream audio files to other Android devices.
Price: Free, $3.89 (pro)
Version reviewed: 0.7
Requires: Android 4.1 and up (host device), Android 2.2 and up (speaker devices)
Download size: 2.5MB
SoundSeeder Music Player on Play Store (host app)
SoundSeeder Speaker on Play Store (speaker app)
Related Posts