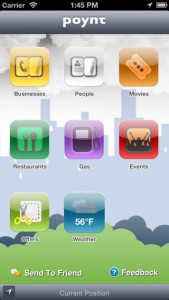 Us humans are hunter gatherers by nature. Now that we're not living a nomadic existence, the only thing we seem to "hunt" for is a place to eat or something fun to do, and the only thing we "gather" is information about local hot spots. Whether you're looking for something to do in your area, or trying to get your bearings while you're traveling, the local search app Poynt can help you find what you need…no matter where you are!
What is it and what does it do
Main Functionality
Poynt is a local search app that can help you find nearby places to eat, get gas, watch a movie, see a show, or conduct business. The app also provides local weather. In addition, the app lets you look up a person by name, phone number, or address. In short, Poynt is like a local search app, the Yellow Pages, and weather all in one handy tool.
Pros
Simple to navigate
Find places to dine or have some fun
Weather provides current conditions and a four-day forecast with highs and lows
Not sure where to go? App provides discount offers to help you pick a place to eat at a discount (organized by what places are closest to you)
Cons
Some features (such as Offers) are US-only (and seem to only pull from one source of offers, but that could just be a local peculiarity)
GPS wasn't the most precise I've ever used. It got my current location right by street, but the street number was WAY off
Discussion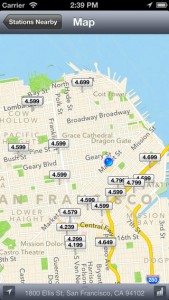 There are a few drawbacks to using this app. The GPS could be a bit more precise, and the app may not be the best choice for international travelers, simply because the Offers feature only works in the US. Also, I'm not crazy about the UI. It's functionally sound, it's just a bit bland for my taste. But of course, your mileage may vary: design is all just a matter of taste.
But other than those minor drawbacks, Poynt is a pretty great tool. It's sort of the Swiss Army knife of travel and local search apps. Poynt does a lot, and it does it fairly well.
Having the weather along with destinations is a solid technique for an app like this. I was able to quickly check the weather, find a place nearby to grab a bite (and at a discount, no less), and look up local places to catch a concert…and all in seconds. Some local events were missing from the schedule at smaller venues, but overall there was a good variety of places to check out.
Conclusion and download link
Whether you're on the road or exploring a little bit closer to home, Poynt is a good resource. It's especially nice for travelers, as you can get event ideas, a weather forecast, and a dinner deal all from the cozy confines of a single app. It may not be the most attractive UI I've ever used, but Poynt is still a pretty cool little app.
Price: Free
Version reviewed: 1.6.1
Supported OS: Requires iOS 4.3 or later

Download size: 9.6 MB
Related Posts