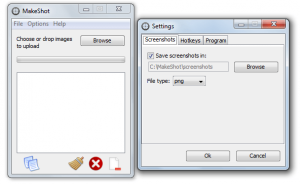 There are many free screen capture tools in the market but only a few of them have a built-in photo or image editing tool. So if ever you need to edit your screenshots, you need to use a different software such as Paint or Adobe Photoshop. That is why it is quite good to hear that MakeShot has its own paint-like image editing tool.
What Is It and What Does It Do
Main Functionality
MakeShot is a screenshot capture application for Windows that is developed by ByteMug. What it does is that it lets you take a screencap or a screenshot of your computer screen. It also features a built-in paint-like editing tool so there is no need for you to use a different software just so you could edit your screenshot image or picture.
Pros
Neat user interface, easy to use
Features two screen shot modes – area screenshot and full screen
You can customize your screencap file location
Saves your screenshots as .jpg, .gif or .png
Pre-defined keyboard shortcuts or hot keys (F9 and Print Screen)
The program itself is unobtrusive; it stays hidden in the system tray area
Has a built-in image editing tool – you can make use of this tool to add colorful texts to your screencaps, etc.
You can share your screencaps to any website or social network using its public link
Customizable program settings
Cons
Can't capture scrolling window
You cannot take multiple screenshots in just one click
This application will automatically upload your screenshot to its server so all of your screenshots will be available to the public. Since there is no option for disabling this feature, you have to delete the files that were automatically uploaded to the MakeShot site manually.
This tool does not support multiple file selection – you need to upload or delete files separately
The built-in image editing tool has a lot of missing features – it cannot crop or resize your image, it doesn't have a select tool, you cannot undo your actions and there is also no tool for image flip and image rotate
Requires the latest Java version (x32/x64)
Discussion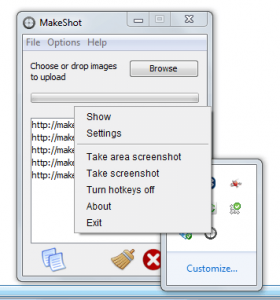 MakeShot is very easy to install. All you need to do is to click its executable file and then you will be guided by its on-screen instructions. Once done, it will automatically stay hidden on your system tray area. If you right-click on it, you will see its menu. The "Show" option will take you to its list of screenshot links while the "Settings" option will take you to its user settings. This is also the section wherein you can customize your preferences. Just check or uncheck the boxes to enable/disable its available options.
Since this software supports hot keys, you can easily take screenshots by simply pressing the F9 or Print Screen buttons. The F9 key is meant for taking area screenshots (screenshots of certain areas on your screen) while the Print Screen button will take a full screenshot of your screen. By default, this software will automatically load its image editing tool right after you've taken a screenshot but you can opt to disable this feature in the user settings. Furthermore, this app will automatically upload your screenshot image to its server so you can easily share your files to other sites by simply sharing its public link. The downside of this is that you cannot disable this feature. So all of your screenshots (even those that you not want to share publicly) will be uploaded to the MakeShot server and if you do not want other people to view them, you need to delete them manually.
That's not all. This software's image editing tool also lacks a lot of necessary tools and features. You cannot even crop or resize your images. You can add texts, you can highlight certain areas using the free-form highlight tool but aside from that, there is not much that you can do with this tool. In other words, this tool still needs a lot of improvement. I would rather use Paint because it has all the tools and options that I need to edit my screencaps.
Considering the fact that MakeShot is a newly released software, it has already shown that it is fully capable of taking screenshots without having any glitches or errors. It's a stable application. It's just that it still has a long way to go. It still has a lot of aspects to improve especially when it comes to its built-in image editing tool. It would also be nice if it makes its "upload image to server" feature optional.
Conclusion and Download Link
MakeShot is a good application for taking screencaps. If you just want a simple tool that you can use to take screenshots of your computer screen, this software is definitely capable of doing so. However, I don't recommend it. Why? Well, for one, the built-in image editor needs a lot of improvement. More importantly, however, I don't like how this program automatically uploads all screenshots to the developer's website. There should definitely be a way to disable that feature.
Instead of MakeShot, I highly recommend you read dotTech's review of best free screenshot tools for Windows. In that review we list some excellent screen capture tools that are free, feature-filled, and have built-in image editors that are better than MakeShot's.
Price: Free
Version reviewed: 1.0.0.0
Supported OS: Windows XP, Vista, 7 and 8 (also requires the latest Java version)
Download size: 3.3MB
VirusTotal malware scan results: 1/45
Is it portable? No
Related Posts