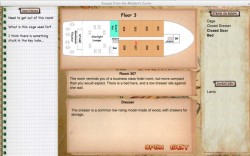 I recently reviewed an interesting text-based game for iOS called Blackbar. Somewhat different from other text-based adventure games, this was quite the unique title. But it made me long for a more traditional text-based adventure game experience. A quick survey of the Mac App store proved that the selection of text-based games was quite limited. I decided to give a game called Escape from the Maiden's Curse, as it had both text-based gaming elements, as well as some interesting visual elements. It's not a traditional text-based adventure game in the style of Zork, but it does have some of those elements.
What is it and what does it do
Main Functionality
Escape from the Maiden's Curse is a game where you must escape from a strange and mysterious cruise ship, using only your wits.
Pros
Inexpensive game that's also available for iOS
Targeted towards more casual, "pick up and play" style gamers
Developer website includes hints!
A good blend of text-based gaming elements and click-to-navigate movement
Notebook to take notes in as you explore the ship
Cons
Has not been updated since its initial launch for Mac back in the fall of 2011
Somewhat cluttered interface
Discussion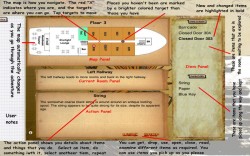 The game opens as you have been transported to a mysterious cruise ship amid mysterious and maniacal laughter. Trapped in Room 307, you decide that you must escape! The game scenario is presented as text, with a map of the ship serving as your sole visual.
The controls here are very simple. You can use your mouse to scroll down through walls of text, or you can click on areas of the ship or icons to make your moves. The clickability makes Escape from the Maiden's Curse a lot more accessible than more classic text-based adventure games. There no frustrating need to find the right words to commit your next action: we've all been in a position playing those old-school games where you had to go through too many commands to move ahead (like, "pick up rock," "grab rock," "take rock.")
The exploratory nature of Escape from the Maiden's Curse is tons of fun, and it's very interesting to examine the objects in very rooms and try to figure out what your next move should be. The game is so much easier to navigate than a traditional text-based adventure game, especially when it comes to using items in combination with one another. The clickable interface is an excellent feature of this interesting game.
Conclusion and download link
I can see this game appealing to fans of text-based adventure games, choose your own adventure books, mystery games, board games, or tabletop RPGs. In short, it's got kind of an alt-nerdy feel to it. If you're into text-adventure games or just love a good mystery, this is a game worth checking out. It's not the flashiest game, but it has a surprising amount of substance.
Price: $1.99
Version reviewed: 1.0
Supported OS: OS X 10.7 or later

Download size: 10.9 MB
Escape from the Maiden's Curse on Apple App Store
Related Posts