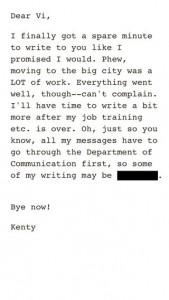 I am a total sucker for text-based games. Whether it's an old school classic like Zork or a newer "choose your own adventure"-style game like Choice of Broadsides, I love games that are basically just an excuse to read. These types of games aren't everyone's type of games, but I really dig them. So when I heard about a new text-based game called Blackbar, I bought it instantly.
What is it and what does it do
Main Functionality
Developed by Neven Mrgan (one-half of the creative team behind the excellent iOS game The Incident), Blackbar is an epistolary text adventure game. At its core, this is basically a word puzzle, with elements of logic puzzles.
Pros
Challenging word based puzzles that really work out your brain
Addictive gameplay
Very interesting storyline
Unlike virtually any other game on the App Store
Cons
Relatively short game for its $2.99 price tag
Will not appeal to people who think "games" need to have graphics
Fiendishly difficult in some places
Does have some mild profanity (App Store gives the game a rating of 9+, if that gives you something to go on)
Discussion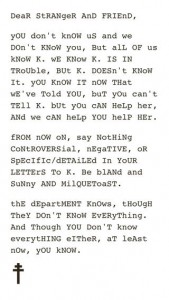 Blackbar unfolds as a series of letters sent between two best friends. There are also letters from a shadowy government surveillance agency (the Department of Communication), as well as letters from an unnamed rebel group.
As the player, you uncover the story by reviewing these letters. Nearly all the letters have black bars over parts of the text, as those words have been redacted from the letters by DOC censors. You can tell how many letters are in each word, which helps you to figure out what word to plug in. Once you type in the correct word, it will automatically go from a black bar to a yellow highlighted text. To figure out the missing words, you basically have to rely on context.
Yea, this is basically just a fill-in-the-blank word puzzle. But it becomes very addictive, as you both relish in your victory over each "level" and also get drawn deeper into the story. If you like logic or word puzzles, this is a great game to check out.
The story here is excellent, and the fact that everything isn't laid out in front of you adds to the game's mysterious appeal. The game is very simple, but it deals with some heavy themes of censorship and government oversight. This is definitely a game that will appeal to a lot of people in an era where so many people are obsessed with WikiLeaks, the NSA, and Edward Snowden.
Conclusion and download link
If you like text-based adventure games or word puzzle games, you need to own Blackbar. The price tag may seem high to some gamers, particularly those who tend to stick to the App Store's huge library of free offerings. Splurge on this game: it's addictive, rewarding, and wonderfully subversive. It's unlike anything else on the App Store, and that's reason enough to check it out.
Price: $2.99
Version reviewed: 1.0
Supported OS: Requires iOS 6.1 or later.

Download size: 4.4 MB
Blackbar on Apple App Store
Related Posts