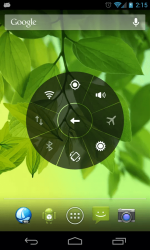 With Android, it's so easy to get a lot of apps but it's still not easy to switch from one app to another. This is because even the task manager won't show your entire list of apps. It will only show your recently used apps. So if you want to use a particular app, you still need to go to your home screen or to your default app launcher. This is one of the main reasons why a lot of Android users continue to search for custom toucher apps such as Floating Toucher.
What Is It and What Does It Do
Main Functionality
If you still haven't heard of Floating Toucher, then you might as well know that it's a free quick launch app for Android. Created and developed by Boat Browser Design, this app features a simple yet very handy quick launch panel that floats not only on your home screen but also on top of other apps. Of course, this customizable disc-like panel will always stay hidden and it won't show up unless you touch its floating point.
Pros
Neat and well-designed UI, easy to use, very responsive
You can choose the apps and shortcuts that you want to include in the panel
It features a wide range of quick action buttons such as home, clear memory, volume up/down, flashlight, Wi-Fi, Bluetooth, screen rotation, GPS, recent apps, etc.
Customizable – allows you to change, adjust or update the appearance of your toucher app's panel and floating point.
You can change your panel and pointer's size and opacity. You can also choose your preferred pointer or point icon.
You can set the app according to your preferred settings
The app's pointer is unobtrusive. You can also place it anywhere you like or if you want, you can opt to stick it to your screen's border.
Features a simple yet classy panel animation
Cons
The panel needs more customization options like custom icons for apps and shortcuts. It would also be great if you can easily change the panel's appearance by simply choosing a template or theme.
Some features are inaccessible for free users. You need to upgrade to Pro in order to access the following features:

create your own floating point
create and add a new folder into your app's quick launch panel
choose your own panel color

There are only two interchangeable panels. Each panel is divided into 8 slices plus there's also one slot into the center of the first panel. The number of slices per panel may not be adequate for heavy app users.
Discussion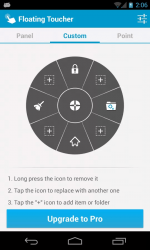 Floating Toucher is a simple yet very useful app. It also features a neat and well-designed UI plus its floating point is unobtrusive. So even if it floats on top of other apps, it is not annoying.
Basically, this app's concept is to have a floating point (which is similar to a dot) on your screen and this floating point won't disappear unless you deactivate or uninstall the app. You can do whatever you want with this floating point. You can drag it anywhere you like and you can even opt to make it stick into your screen's border. Needless to say, this floating point is a crucial part of the app because it acts like a switch. If you touch it, it will load the actual panel which looks like a round pizza that is divided into eight equal slices.
In addition, you can also toggle between its two interchangeable panels. There's a main panel with a special button in the center and there's also a secondary panel. Since each panel is made up of equally divided slices, you are allowed to customize these slices by placing your own selection of action buttons, apps and app shortcuts. You can also change the color and opacity of your toucher app's panel and floating point.
All in all, I could say that this app really does what it is intended to do. It's just that it could have been better if it has more options for user customization. It would be great if you can change the design of its panel by simply choosing a template or theme. Besides, its two interchangeable panels may not be enough to cater the needs of those heavy app users. That's not all. The rest of the app's features are only available for Pro users and if you want to upgrade to Pro, you need to purchase the paid version of the app for HK$16.00 (around $ 2.06).
Conclusion and Download Link
Floating Toucher is definitely one of the most reliable toucher/app launcher apps that I've tried. It's very responsive, it doesn't lag, plus it has an unobtrusive floating point. It also doesn't function as a home screen replacement, meaning you can use it regardless of what home screen app you are using. I am a bit disappointed that this app only has two interchangeable panels, but that is hardly a deal-breaker. Overall, this is a great app worth checking out. If you are looking for a good alternative, you can try the Hi Toucher app from Hi Dev Studio.
Price: Free – users can upgrade to Pro for HK$16.00
Version reviewed: 1.6
Requires: Android 2.3 and up
Download size: 1.3MB
Floating Toucher on Play Store
Related Posts