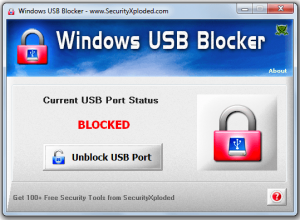 Are you frequently annoyed by the fact that you cannot prevent other people from putting their USB sticks into your computer? This usually happens when you are sharing your laptop or PC with your group mates or even to your colleagues at work. It can even happen when you don't share your computer with others The problem here is not only can people easily steal your data vis-a-vis USB storage devices but also that you do not know if their USB sticks are actually safe, meaning you are open to viruses and malware. If you do not want this to happen, then you can try using this software called Windows USB Blocker.
What Is It and What Does It Do
Main Functionality
Windows USB Blocker is a simple utility tool that is developed by SecurityXploded. What this software does is that it blocks USB storage devices from connecting to your computer, meaning any portable disks or USB flash drives or any other USB storage device from establishing a connection to your computer. This means that even if you put a USB stick into your USB port, your computer won't recognize it unless you unblock USB port with this program or deactivate Windows USB Blocker.
Pros
Neat GUI, simple and easy to use
Easily blocks and unblocks your USB ports
Will only block USB storage devices like flash drives and external hard drives – this software won't block your other USB devices such as your mouse, keyboard, headset, microphone and USB internet dongles.
Shows your current USB block status
Works instantly – no need to shut down or restart your computer
Cons
Doesn't have a password support feature to prevent unauthorized unblocking of USB ports. So it's easy for other people to unblock your USB ports by manually opening this program and unblocking USB ports, if they know this program exists.
There are no other useful options such as setting your unblocked USB ports to read-only mode
It would be nice if it could allow specific USB devices to be recognized even if its block status is enabled
This software doesn't support hotkeys so if you close it, make sure that you know where to find it so that you can reopen it to unblock ports when necessary
Discussion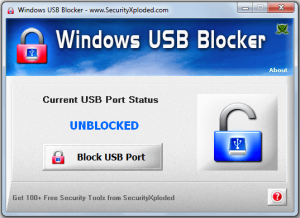 One of the most common causes of virus and malware infection is the act of sharing USB devices without taking the necessary precautions. As a matter of fact, you cannot always rely on your anti-virus to detect if a certain USB device has a virus or malware. There are also those who are simply too lazy to scan every USB stick that is being plugged into their computers. Besides, you cannot always stay on guard especially if you are sharing your computer to others. So the best possible way for you to ensure that your computer won't get any virus or malware is to block your USB ports.
Of course, this is where the Windows USB Blocker comes in handy. It is a very straightforward app. It is not that advanced but it pretty much does what it is supposed to do and that is to block any portable disks and USB devices. What's also great about this software is that you can easily toggle between its block and unblock functions. So if you want to block your USB ports, just press the "block" button and vice versa. Just keep in mind that this software is only ideal for home users.
So far, I didn't have any trouble using this software. It is very stable plus it is so easy to use. Just don't expect it to do things that can only be done by those advanced USB blockers. It is also important to note that this tool is only meant to block portable disks and portable flash drives. This means that regardless if it's enabled or not, your other USB-dependent devices will still continue to function. You can still use your mouse, keyboard, headset, microphone and even your USB internet dongle.
However, there are still some important features that this software lacks. One good example of this is its lack of user security options. You cannot set a master password so even if you block those portable storage devices; there is still a possibility for other users to deactivate your settings especially if they have admin access to your computer. Another downside of this software is that it doesn't support hot keys so if you want to completely hide the software, you need to open its exact file location (C:\Program Files) just so you could update its settings, etc.
Conclusion and Download Link
I find Windows USB Blocker to be very simple, and that is a good thing, because it does one simple task: blocks USB storage devices from connecting to your computer. And this program works just as advertised — it successfully blocks USB storage devices from connecting to your computer. There are downsides to Windows USB Blocker, such as the inability to password protect itself, but over all it is very useful for those that want to block USB storage devices from connecting to their computers. Check it out.
As a side but related note, if you want a more advanced type of USB blocker, you can try USB Block from New Softwares. Take note USB Block is not not freeware.
Price: Free
Version reviewed: 1.0
Supported OS: Windows XP, 2003, Vista, Windows 7 and Windows 8
Download size: 2.56MB
VirusTotal malware scan results: 1/46
Is it portable? Yes
Related Posts