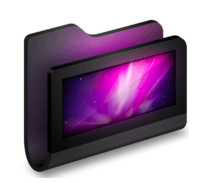 Sometimes, in my virtual traipsing through the Mac App store, I encounter an app that seems interesting. But then, on closer inspection, I start to wonder why someone would use this app in the first place. Sometimes, the app doesn't live up to its potential. Other times, the app seems a bit redundant given what the native Mac programs are capable of. One such app I recently played around with is iDesk Fast. This app was developed by Giulio Caruso, aka GC Studios.
What is it and what does it do
Main Functionality
iDesk Fast allows you to quickly show or hide your desktop. This is great for when you have a bunch of windows open in different apps and don't want to take the time to minimize each window individually.
Pros
Works perfectly as advertised
Control window is simple to navigate and can be moved to any location on the screen
Control window for the app always stays on top of other windows, so it won't get buried in and among your other active apps
Cons
Control window can be moved, but not resized
Would have been nice to see this app give you the option to run the app from the control window or from a menu bar icon
Kind of already does something that you can do with Expose…some people might ask why you'd need this app if you use Expose already, or use Mission Control
Discussion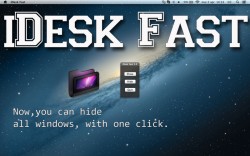 iDesk Fast is a bit of an odd duck. While its usefulness is obvious (it is nice to be able to snap back to your desktop when you have about a billion windows open), it isn't exactly that unique of an app. After all, you can basically set up the same thing using Expose (I have my MacBook set up so that when I bring my cursor up to the upper left corner of my screen, all my open windows shuffle away and give me access to my desktop.)
iDesk Fast does work, and it works well. You can easily "hide" your windows, and then hit the "show" button to go back. You can also quit the app with a "quit" button on the control window, or from the dock.
One thing I would have liked it the ability to change the size and orientation of this little control window. That would have made it more flexible. It would be nice to have the option to make the control window be NOT always on top, too.
Conclusion and download link
It's not that this is a bad app. In fact, iDesk Fast is a really nice app. It's sleek, small, takes up very little space on one's hard drive, and works like a charm. But it does seem awfully redundant, when there are native Mac options for accomplishing the same thing with a small onscreen gesture of the cursor. That being said, iDesk Fast may appeal to you if you have run out of gesture "slots" with your current set up, and need a way to quickly see your desktop amid a bunch of open windows.
Price: Free
Version reviewed: 2.0
Supported OS: OS X 10.6 or later

Download size: 2.1 MB
iDesk Fast on Apple App Store
Related Posts