Kids these days are so fortunate to have a lot of tools for learning. As a matter of fact, there are a lot of educational tools that you can download for free. There's a program for learning the alphabet and there's also a program for learning basic math. Speaking of which, there is this basic yet very colorful calculator that you can use to teach your kids how to add or subtract. This software is called Numbaz.
What Is It and What Does It Do
Main Functionality
Numbaz is a basic calculator that is intended for kids of all ages. It is a type of educational software that is created and developed by Catzware, a Florida-based non-profit software developer. This software will float on your computer screen. It also features a very colorful UI that will definitely attract the attention of your kids. With this software, you can teach your kids how to perform those basic mathematical operations. You can also teach them how to correctly pronounce those numbers in the Arabic numeral system.
Pros
Simple, stylish and colorful UI, very easy to use
Customizable UI colors – green, yellow, red, violet, blue, etc.
Specifically intended for kids of all ages (ideal for tots and grade-schoolers)
Can perform those basic mathematical operations – addition, subtraction, multiplication and division
Has a built-in text-to-speech function – the software has a naturally sounding voice and it will tell you the correct pronunciation for each number
Features a floating effect as well as a bounce effect – it will stay on top of your computer screen even if you're using another program
You can minimize the software into a floating tab (double-click the tab to re-launch)
You can set this tool to show the numbers as words (ex. 1 = One, 2 = Two, etc.)
Cons
The Numbaz user interface is too small and you cannot adjust its window size to make it larger
You cannot see the full equation on the calculator screen – it will only show the latest or most recent digit or digits that you have encoded
It would be nice if it has more features that could attract a kid's attention – for example, a full set of pre-loaded mathematical equations
Discussion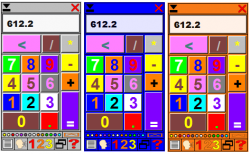 Numbaz is a very useful application especially for parents and teachers. Since kids are usually attracted to anything that is colorful, you can easily make them learn the basic mathematical operations such as addition, subtraction, multiplication and division. With the help of this software, kids can learn something useful while they're using the computer.
What's great about this software is that it's tailor-made for kids. It's a basic calculator that floats on top of your computer screen and you can customize its user interface by switching into its various color themes. It also features some nice and cool effects and you can easily minimize it whenever you need to something else on your computer.
Aside from doing the basic mathematical operations, this software also has a built-in text to speech function. With its naturally sounding voice, kids can listen to the correct pronunciation of numbers and this isn't only limited to 0 – 10. You can also make this software pronounce the answers from your given mathematical equations. It can easily pronounce 1, 234, 567, 890 and it can even pronounce any numbers with decimal points such as .005, 80.02, etc.
While I like the objective of this software, I could say that it's not totally free of flaws. It still needs a lot of modifications and improvements. First and foremost, it may be stylish and colorful but it's too small. You cannot even resize it to make it look bigger. Most kids are not only fond of colorful things but also things that are big enough to easily catch their attention.
Furthermore, this software will only show a specific digit or number and not the full mathematical equation. For example, if you want to find out the answer for 10 + 17, its screen will only show 10, then 17 and then the actual answer. It won't show the equation as to how it's supposed to be – which is "10 + 17 = 27". It would also be great to see some other features like some pre-loaded equations wherein you can make your kid do some practice tests and if he or she gets the correct answer, the software will show some cool effects as a reward.
Conclusion and Download Link
I like this software and it's definitely great for teaching kids to learn math. It's very simple to use plus you can choose from its wide range of colorful themes. It's just that it has some downsides that I cannot easily ignore. First of all, it's too small. It's difficult to make a kid visualize the equations especially if the numbers are shown on a small window. Second, it doesn't show the actual equations. Nonetheless, it has a good text-to-speech feature plus it really does have an attractive UI. If you are thinking of trying out this software, then I would suggest that you do but it would be best for you not to get your hopes up.
Price: Free
Version reviewed: 9.0
Supported OS: Windows XP, Vista, 7 and Windows 8 
Download size: 1.39MB
VirusTotal malware scan results: 0/47
Is it portable? No
Numbaz Basic Calculator homepage
Related Posts