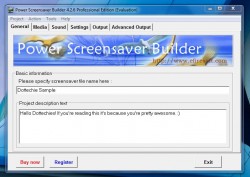 Windows allows you to download and configure your own screensavers, but have you ever wanted to package them up and offer them to others? If you have more than one PC in your household, wouldn't it be nice to sync the experience by installing the same screensaver on all of them? Do you create visual designs that would sell great as shareware screensavers? Power Screen Saver Builder is a Windows application that allows you to produce and even distribute your very own screensavers in several different formats. It's worth noting up front that the premium version is offered as a 30 day trial, after which several features are disabled if you continue to use the free version.
What is it and what does it do
Main Functionality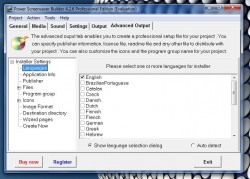 Power Screen Saver Builder is a Windows application designed to help you produce attractive screensavers which you can sell or offer to others as shareware. More specifically, the created screensavers will expire after an initial trial period, requiring users to input a registration code in order to continue using them. You can export standalone installation packages, which include copyright information and company logos. While Power Screen is intended for professional use, you could just as well use it for personal endeavors too.
Pros
Allows you to create and bundle screensaver packages to share or sell
Includes support to setup trial use of your screensavers, complete with registration key functions to unlock premium versions
Import media like images and music to produce a screensaver
Customize various options like transition effects, company logos and more
Create a professional screensaver complete with author, copyright, business info and more
Output your screensavers in several formats including screensaver files, standalone executables and even a standard install package
Pretty light on system resources, as it uses only 15MB of RAM while running
Cons
Premium features offered on a 30 day trial period, after which you need to purchase or several functions are no longer available for free

4 image upload max, with restrictions on author and similar information for the output packages in the free version

There are two paid versions available, personal and professional which can be confusing (each offers different features). If you'd like to see the difference between the professional and personal variants see this page.
Discussion
The installation package comes bundled in a compressed archive. That means you will need a tool like WinZIP, WinRAR or 7ZIP to extract the contents. Once extracted, you will then have to install the application before you can begin using it. I did not encounter any additional software prompts or bloatware during the installation process.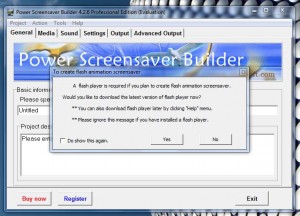 The first time you launch the application you will be presented with several prompts. The first prompts you to enable the automatic update feature and configure the related options, like how often the app should check for updates. The next prompt reminds you that in order to create flash based screensavers you will need an updated version of flash player. It's more of a friendly reminder, so if you already have a flash player installed you can ignore the message. If for some reason you do ignore the message and find you need to install a player later on, you can always access the option through the "help" menu.
Getting around the interface is pretty simple, and all of the dialogue buttons and menus are clearly labeled. The UI is actually divided into tabs, which allows you to configure the various features of your screensaver. The tabs for the UI are as follows:
General- where you configure the screensaver file name and description
Media- where you configure the various media files associated with your screensaver (flash and image files)
Sound- where you configure the audio for your screensaver including background music
Settings- where you specify options related to the output screensaver like author info, version and copyright info, registration info, and more
Output- where you choose the output format and directory
Advanced Output- where you can setup a more professional installation package for your screensaver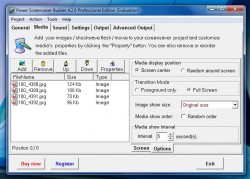 Instead of covering each tab individually, it makes more sense to quickly walk you through the screensaver creation process. First, you would specify the name of the screensaver and add a short description. Next, you would upload and configure the various media files including images and sound. Through the related tabs you can also customize how the images appear on screen, how transition effects are displayed and even how the background music is looped. It does include support for multiple audio tracks which can be played back in a playlist style. After that you would configure the various settings by entering a bunch of information pertaining to the author, version, copyright and more. Aside from the Advanced Output tab, this allows you to really make your screensaver look more professional. Finally, you need to decide what output format you would like for your screensaver. If you want a more professional output package you would use the Advanced Output menu, otherwise you can just choose one of the options in the standard Output menu. You can export the screensaver in the following formats:
Screensaver .scr
Executable or portable .exe
Screensaver installation file
Installation .exe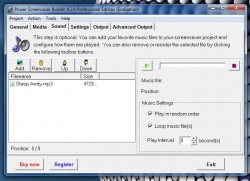 Obviously, the output is going to largely depend on your audience and what you would like to do with the package itself. If you're going to sell your screensaver you want to use a more professional approach. If you're going to bundle the screensaver for personal use, that doesn't matter so much and you have several other options to choose from. On the Output menu tab, you can also preview your screensaver before you bundle it up into a single package.
Interestingly enough, PSSB also comes with a couple useful tools to help you put together a screensaver package. There's a registration key generator, image convertor, and a JPEG resizer. Obviously, the tools are pretty self-explanatory.
If you decide to create a screensaver package for personal use, you can opt to not use registration requirements. This is certainly a welcome feature, as you don't want to bother with registration keys when you're not planning on selling your screensaver.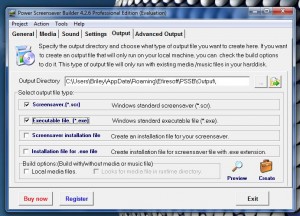 The application works well, and it does exactly as advertised. Obviously, the screensaver compatibility is going to directly depend on which format you decide to output. Perhaps the easiest is the installation executable which allows you to just install the related screensaver like any other app or program. If you'd rather use more of a portable standalone approach, the plain executable works just fine too. You can even set one of your created packages as the default screensaver natively through the app interface.
For reference, PSSB uses about 15MB of RAM while running. That's pretty darn minimal for an app of this caliber.
Conclusion and download link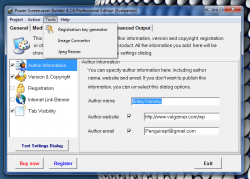 Power Screen Saver Builder is a Windows application that allows you to create and bundle your own screensavers. You can even offer the packages you create as shareware trials if you decide to sell your custom screensavers. Power Screen Saver Builder is available as a 30 day trial. After the 30 days, you can continue to use it for free but several features are locked out to free users or you can purchase a professional license for $39.95 or a personal license for $29.95 to restore access to said features. Namely, in the restricted free version you can only use a total of four media images and you cannot edit the author information. And it goes without saying that the commercial options like the Advanced Output menu are only available in the professional version.
Price: Free, $29.95, $39.95

Version reviewed: 4.2.6
Supported OS: Windows 8/7/Vista/XP
Download size: 6.10MB (compressed), 6.13MB (unzipped)
VirusTotal malware scan results: 0/46
Is it portable? No
Power Screen Saver Builder homepage
Related Posts