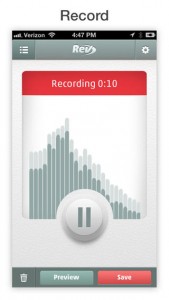 There are all kinds of reasons that you might want to record a conversation. You might need to record the minutes of a meeting, or a conversation with an important client. You might want to have a record of a lecture to refer to it later, or maybe your job involves a lot of interviewing. It is hard, sometimes, to find a voice recorder app that can do all of these things equally well. Not all voice recorder apps are created equal, after all. If you're looking for a recorder that allows for easy transcription, for example, you might want to try out Rev Voice Recorder: Dictation and Audio Transcription, developed by Rev.
What is it and what does it do
Main Functionality
Rev Voice Recorder: Dictation and Audio Transcription is pretty much what it says on the tin: a voice recorder app for iOS that supports transcription of your audio files and plays nice with a variety of cloud services.
Pros
Elegant and attractive design that's utterly professional
Share files via email, Dropbox, Evernote, and GDrive
Excellent sound quality
Helpful search functionality helps you get to the right files
Easily add extra voice notes to a file, or trim the fat on files with lots of pauses
Unlike other apps in this category, this app will keep recording in the background while you use another app in the foreground
 Automatic pausing for incoming calls
FAQ is simple to use (both browsing and searching are supported)
Simple one-tap recording controls
Two audio recording quality settings
Cons
Transcription services are handy, but can get pricey in a hurry (First timers, it should be noted, do get $10 off their first order)
Discussion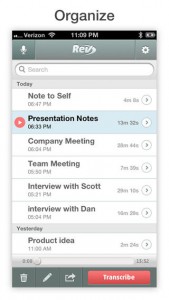 The thing that I loved best about Rev Voice Recorder: Dictation and Audio Transcription is that it allowed me to keep recording, even with other apps running in the foreground. My current iPhone voice recording app doesn't allow me to do this, much to my constant consternation!
Tons of awesome features aside, what what captivates me about Rev Voice Recorder is the interface. It's rare to find an app that's quite this polished looking, particularly for something that's still on Version 1.x. This app is beautiful, stable, and a dream to navigate.
If you're thinking about downloading this app, it's probably because you have some need of transcription services. The App Store description boasts of "98%+ accuracy and 48-hour turnaround" for the transcriptions, which are written up by humans and not voice-recognition software. Pricing is $1/minute of audio. New customers can get $10 off their first order.
Conclusion and download link
There are tons of voice recorder apps out there. But for someone who routinely needs their notes and conversations typed up for them, the dictation services offered by this app makes it the best choice for a certain group of professionals. Boasting a great design and helpful customer support staff, this is an excellent little app.
Price: Free
Version reviewed: 1.4
Supported OS: Requires iOS 5.0 or later.

Download size: 9.7 MB
Rev Voice Recorder: Dictation and Audio Transcription on Apple App Store
Related Posts