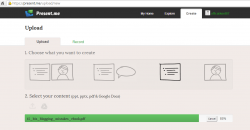 Have you ever thought of finding a simpler way to create, upload and share your presentations? It doesn't really matter if you are creating one for your school project or for your upcoming business presentation. What matters is that you can present your presentation properly. If you still haven't used this web app called Present.me, then you might be interested in checking it out.
What is it and what does it do
Main Functionality
Present.me is a cloud-based web application that is designed to help you create, upload, edit and share your slide and video presentations. It is created and developed by a UK-based company and its aim is to provide a new way for presenters to effectively communicate to their audience. With the help of this web app, you can present your online presentations while talking to your audience at the same time. If you are the shy type, then you can simply record your voice while discussing the contents of your slides.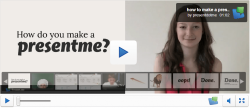 Pros
Free, well-designed and intuitive user interface
No download required. All you need to is to set up a free account at the web app's official website and you're all set to get started. Everything is stored in the Cloud.
You can upload or add almost any type of file into your presentation – as of now, this web app currently supports the following file types – PDF, Powerpoint, Excel, Open Office, Google Docs, etc.
On-the-spot recording – you get to explain the contents of your slides while you record
Features four basic options for creating "Presentmes" (the official term for your Present.me presentations) – slides only, slides and webcam video, webcam only video, slides and audio
File sharing links – once you're done creating your Presentmes, you can immediately share them to your audience via Facebook, Twitter, LinkedIn, Google Plus or e-mail. You can also embed your presentations to your website or blog.
You can edit your unpublished presentations by simply redoing the parts that want to change or delete
Each presentation has a maximum duration of 60 minutes
You can monitor your presentation stats
Cons
Free users have limited access which means that you are only allowed to use whatever is available in the free version. If you want to do more such as setting your presentation's privacy options, then you need to upgrade and purchase any of the web app's premium versions – their most affordable package starts at $16 per month
When uploading files for your slides, you are not allowed to upload the following file formats – .jpg, .png, .doc, .docx and .txt
No password protect option – all of your Presentmes are available for public viewing
The Stats tool will only show you the overview and not the detailed information – this option is only available for paid Present.me users
Discussion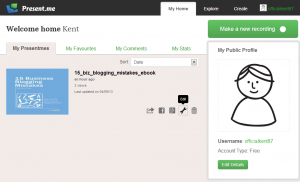 It is clear that what Present.me wants is to introduce a new and simpler method of presenting slides. This is actually a great option since you don't only get to see the contents of the slides but you also get to see or hear its actual presenter. I find this web app very useful especially during those instances wherein you need to conduct some online lectures or webinars.
Besides, this web application is very easy to use. There's no need for you to download or install anything. Everything is cloud-based and all you need to do is to sign up for a free account. After that, you are already set to upload or create your first presentation plus everything is presented in a way that is not difficult to understand. So even if you don't know much about creating slides, you can easily make one by simply following the web app's step-by-step instructions.
Another thing that I like about this web app is that you can choose from its four basic types of presentations. While you can publish a presentation that is purely composed of slides, you can also opt to record yourself while you're explaining the contents of your slideshow. If you don't want other people to see you, you can still present your slides while you narrate its important points.
Moreover, every Presentme that you can successfully publish will be immediately available to the public so everyone is allowed to view and share your presentations to various blogs, websites and social networks. Unfortunately, you cannot set your presentations to private-only mode. This feature is only available for paid users.
All in all, I could say that this web app has a lot of good points. It's just that its free users won't have the opportunity to make the most out of its features. Plus you are only limited to ten recordings per month.
Conclusion and download link
Even if the free version of Present.me has limited features, I would still use it because it provides a hassle-free way of creating slide presentations with narratives and pre-recorded webcam videos. It's definitely great for people who wish to share their knowledge about certain subjects – ex. online English teachers, professional lecturers, etc. I don't see Present.me replacing PowerPoint any time soon, but it is something worth checking out.
Price: Free – users can upgrade to Plus for $16/month

Version reviewed: N/A

Requires: Any modern web browser with Adobe Flash 10.3 or higher on any operating system — Internet Explorer 7 or higher, Mozilla Firefox 12 or higher, Safari 5 or higher, Google Chrome 9 or higher.

Present.me free online video presentation software homepage
Related Posts