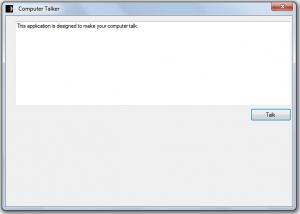 A lot of people rely on text to speech programs because instead of reading the whole text, you can just let your computer do all of the talking. Your computer will read your text out loud while you listen and do some other important things. While there are a bunch of impressive text to speech programs out there, Computer Talker allows you to convert your text into speech for free
What Is It and What Does It Do
Main Functionality
Computer Talker is a text to speech software for Windows that is created and developed by Point64. This program is basically a simple tool that you can use to "make your computer talk" in a way that it translates or converts anything that you write or read into speech. It features its built-in naturally sounding voice that reads your text out loud in a decent female tone.
Pros
Very simple UI
It reads or converts your text into speech using its naturally sounding female voice
No complex controls – this software is very easy to use, just copy and paste the text that you want to convert into speech and once you're done, simply press the "Talk" button
Can easily recognize English words – it can even pronounce these words properly and it pauses whenever a sentence ends with a punctuation
Portable
Cons
It has some difficulty pronouncing foreign or non-English words – this is also due to the fact that this software doesn't have a built-in multi-language support
It can only read the texts that you paste into its text area – it could have been better if it has an option wherein you can simply upload the files that you want to convert into speech
Lack of options – it is very plain so there's nothing much that you can do with this application
Discussion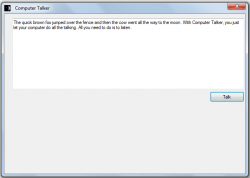 There's a saying that states that simplicity is the ultimate form of sophistication but it appears that Computer Talker is still way too far from what you call as a sophisticated computer application. It's simple in a sense that it doesn't do anything except to convert or translate your text into speech but that alone isn't enough. It still needs to add more options to improve its quality.
To use this software, all you need to do is to double-click its application and it's all set to read any text that you want it to read. Since this software is a portable type, there's no need for you to install it to your computer. Moreover, this application basically uses the conventional "copy and paste" method so if ever you want to convert any text or file into speech, you need to copy it first and then you paste it into the software's empty text area before you click the "Talk" button.
After that, everything is done automatically. The software will convert your text and it will read it out loud using its naturally sounding voice that is apparently set in a female tone. Unfortunately, this is the only option that's available so if you prefer a male tone over a female tone, it would be best for you to look for another text to speech program.
Nonetheless, I could see that this software is pretty much useful especially when you are trying to multi-task. For example, if you want to read a book while jotting down notes. You just copy and paste the contents of that book into the software and then you simply let the Computer Talker do the rest of the work. Another good thing about this software is the fact that it can read English words properly. Its voice doesn't sound too "machine-like" and it actually pauses whenever it encounters those sentences with punctuation. It's just that you cannot really expect this program to do anything beyond what it is programmed to do and since it doesn't support other languages besides English, it often mispronounces those foreign words.
On a positive note, I actually see a lot of potential for this software if ever it's given the chance to have a better and more improved version. Still, it takes a lot of time before it can match those popular text to speech software out there so it's really up to you if you want to get stuck with a software that still lacks in many aspects.
Conclusion and Download Link
While I consider the Computer Talker to be a potentially useful text to speech application, it is still not that good enough especially with its current version. I suggest that you find another program with better features. If you still haven't found any, you could give Balabolka a try. It's free and portable.
Price: Free
Version reviewed: 1.0.4988.16841
Supported OS: Windows XP, Vista, 7 and 8
Download size: 11KB
VirusTotal malware scan results: 0/47
Is it portable? Yes
Related Posts