Giveaway of the day for December 6, 2008 is mgWindow.
————————-
Encsoft, the developer of mgWindow, ran a program called mgLaunch a couple of weeks back. There was a big trojan detected fiasco but in the end the final conclusion was that it is most likely a false positive.
Well mgWindow also is in a similar situation. My Kaspersky detected a trojan (again).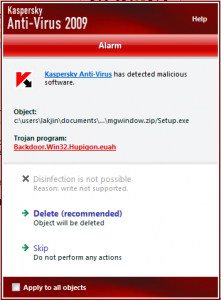 I ran the file through virustotal.com and 6/38 came back as 'positive'. Avira, Avast, F-Secure, GData, Kaspersky and VirusBuster all detected something. Click here for report.
Now if it were relatively unknown/small antivirus programs that detected this I would say "F it, I am gunna install anyway". But Avira, Avast, F-Secure, GData, Kaspersky and VirusBuster are not small names in the antivirus field. With the exclusion of Avast and VirusBuster, the rest have excellent detection ratings and are considered top notch antivirus programs. Visit http://www.virusbtn.com/news/2008/09_02 if you do not believe me.
I also downloaded the trial of mgWindow from download.com (click here for link) and Kaspersky detected the same trojan in the file from download.com.
So in the end, this most likely is another false positive, but considering I doubt I will find this program very useful, I do not feel it is worth the risk to get this software for reviewing purposes or otherwise. Download, install and use at your own risk.
Note: I posted this comment on the comment sections for mgWindow 12 minutes after the program came up because I figured people would be interested but apparently the mods did not think this comment was worth it so they did not let it go through. Seems Bubby made his own comment on the issue and put it up at the top.
Related Posts