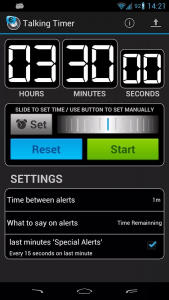 Have you ever encountered those scenarios wherein you are bound to keep track of your time? For sure, you did. One good example is when you're cooking. You usually wait for a few minutes until the meat becomes tender. While waiting, you can simply set up a timer so that you won't forget about it while you're doing the rest of your kitchen chores. In this case, you might want to consider using a reliable app such as Talking Timer.
What Is It and What Does It Do
Main Functionality
What is Talking Timer? It is basically a timer app with pre-recorded voice alerts. In other words, it's a timer app that talks and it won't stop making those annoying alerts until you respond to its notification. This app is created and developed by SchizTech.
Pros
User-friendly UI, simple and responsive
You can set your timer countdown by simply adjusting its knob. You can also opt to set it manually by choosing your preferred time interval – set the hour, minutes and seconds
This app lets you set the time between alerts as well as the last minute special alerts (the last 5-second countdown)
Has a voice alert feature (which is set in a female tone) that will you remind you every now and then about the time that you've set on your timer
You can set the app to say what you want it to say on alerts – it could tell you the total time remaining, the total time that passed as well as the current time in your timer.
It runs in the background so you can still play music, watch videos or browse the web
It will still load its voice alerts even if you're listening to music, etc. As soon as your timer completes its countdown, it will make some annoying noise and it won't stop unless you turn it off
You can opt to disable its ads for free (To do this, just go to About > then check the box for "Remove ads for free".)
Cons
Can only set your alarm time to a maximum of 3 hours, 59 minutes and 59 seconds – if you want to go beyond that, you need to purchase the app's Pro version for a one-time fee of $0.99
You're not allowed to create any custom alerts
You cannot set the time between alerts beyond 30 minutes
You cannot set multiple alerts and you cannot also put a specific label or note to your alerts
Discussion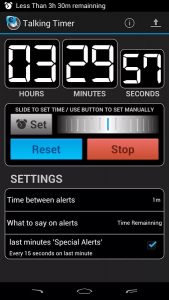 If you are the type who often needs to be reminded of how much time is left before you go to class or work, then you definitely need an app like Talking Timer. It's a very practical application plus it can be used in many ways – ex. exercise routines, cooking, baking, marathon practice, mock tests, vital signs monitoring, gaming, etc.
When I first used this app, the first thing that caught my attention was its neat and responsive UI. It may not be something like those apps with fancy skins and themes but it's very stable, it doesn't lag and it pretty much does what it is intended to do. You set its timer; you do your stuff and when it's time, the app will automatically alert you using its pre-recorded voice messages. So for example, if you set your timer to 1 hour and 30 minutes, it will give you updates of how much time you have left by saying something like "you only have 1 minute and 30 seconds remaining" and it will also give you special alerts by saying the usual 5 seconds countdown together with its annoying alarm sound.
Of course, you're free to set this app's settings according to your preferences. So if ever you prefer the app to alert you with the current time or the total time that passed, then all you need to do is to update your preferences. What I also like about Talking Timer is that it runs in the background so it will just alert you when it's necessary plus it will still continue running even if you are listening to your favorite songs. So every time it goes on alert mode, it will automatically pause whatever it is that you are playing and after that, you can continue listening to your songs. Just take note that when the time is up, it will not stop its noise alerts unless you press its "dismiss" button.
So far, I find this app really useful. It's just that you cannot set your timer beyond 3 hours, 59 minutes and 59 seconds. Unfortunately, that is the only setting that is available for the free version and if you want to set your timer beyond that time, you need to upgrade to its Pro version by paying a one-time fee of $0.99. Well, on the lighter side, the upgrade cost doesn't really cost that much. Besides, this app is generous enough to offer an option for its free users to turn off its ads without any additional charge.
Conclusion and Download Link
I highly recommend Talking Timer to those who are frequently doing activities that require the use of a reliable timer. The free version of this app may has some limitations but it doesn't really affect its overall functionality that much, unless of course you need to set your timer beyond three hours (which most people won't need to do — you have alarm clocks for long-time notification needs). Plus the attraction of this app are the voice messages. I like the fact that its voice alerts aren't irritating so you can still focus on your tasks. Overall, check out this app if you need this sort of functionality.
Price: Free
Version reviewed: 1.1.9
Requires: Android 2.1 and up
Download size: 890KB
Related Posts