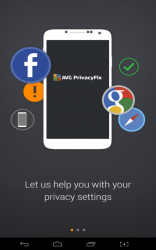 One of the most important features of social media networks like Facebook, Google Plus and LinkedIn is that you can customize privacy settings so that outsiders see only what you want them to. Of course, each network is different and it takes a varying amount of meddling to achieve true privacy. Because of that, some folks out there who aren't so tech savvy might find it a bit difficult to handle the necessary operations. AVG PrivacyFix is an Android application that will help you change privacy settings for personal accounts so that they're more secure. It scans Google Plus, Facebook and LinkedIn and then very clearly offers you some suggested changes you should make.
What is it and what does it do
Main Functionality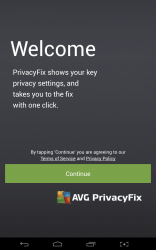 AVG PrivacyFix is an Android application that will help users better protect their sensitive data, and configure their personal accounts so that they're more private. Of course, to use the app you will have to sign-in with your Facebook, Google Plus or LinkedIn accounts depending on which profile you'd like to lock down. One of the main factors of the app is its ease of use, as the suggestions are incredibly straightforward telling you exactly what aspects of your profile you should change. For example, one message alerts you on the Google indexing status for your Facebook profile. If indexed, other people can see your profile just by using a search engine like Google.
Pros
Scans your Facebook profile and suggests changes in order to help you increase privacy
The suggestions are very straightforward, and each one offers a short description as to what they accomplish
It takes only a few minutes to review all the settings and lock down your profile
Clear and concise indicators tell you how to act, or if an individual setting has already been taken care of
Cons
To manage Google Plus and LinkedIn you will need to install a browser plugin (Chrome, Firefox), this app only natively handles Facebook privacy settings
Potentially necessary, especially if you know how to keep your Facebook profile and posts private
You will need to sign-in with your Facebook profile and allow the app some pretty extensive permissions (considering what it does that's understandable)
Appears to take advantage of AVGs bait and switch tactics, that is they offer you something simplistic to entice you to use alternate software they offer
Discussion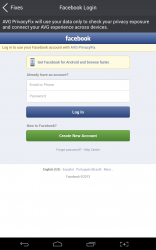 Obviously, the first thing you have to do (after installing the app) is sign-in to your social accounts. It's worth noting that this app will only analyze your Facebook account and certain aspects of your YouTube account through the app. You have to install a Chrome or Firefox plugin to analyze your LinkedIn and Google Plus accounts. To me this seems like a blatant trap. This is what the app description says on Google Play:
Download it now and get access to one main dashboard that quickly & easily shows you what and with whom you're sharing stuff on Facebook®, Google® and LinkedIn®.
It very clearly states that the app will analyze all three networks, but it most certainly does not. You can sign-in to your Google account but it doesn't analyze much. The main focus here is clearly Facebook. Just keep that in mind if you decide to give this app a try.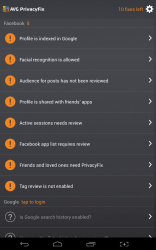 The app uses unique indicators to let you know how you should proceed with a setting. If it needs attention or is a recommended change, the app will display an orange circle with a big exclamation point in the center- Metal Gear Solid style (sorry uber geek reference there, carry on). If the setting is configured properly and offers the utmost privacy, the app will display a green circle with a check mark in the center. If the setting is already managed yet needs a bit more to achieve maximum privacy, the app will display a green circle with an exclamation point in the center. It also serves up pros and cons for each setting change that is suggested. This allows you to accurately decide whether you want to mess with a setting or not.
Each time you look at one of the descriptions, the app will change the indicator to show that you've considered it. To reiterate, the green circle with the exclamation point in the middle appears for all the entries that you peek at. When you actually change a setting, the green circle with a check mark will replace the icon.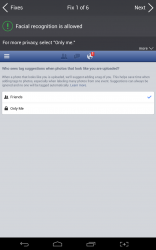 As for the suggestions, they're pretty simple. If you know how to lock down and secure your social network profile, this app will likely do you no good. If you're a casual user it might help out a bit, although the suggestions border on silly because many of them are pretty obvious. Just to give you a sample of what they suggest, here are a few fixes:
Profile is shared with friends app
Profile is indexed in Google
Facial recognition is allowed (Facebook)
Friends and loved ones need PrivacyFix
Tag review is not enabled (photos)
In my personal opinion, a lot of these settings are unnecessary. As long as you have your profile set to private, and you filter your posts so that only friends and family can see them, you don't need to play around with a lot of the other options. That being said, some folks may desire to have the utmost security and that can mean going to extreme lengths to achieve it. Not that this app is any kind of extreme, but you get the point.
Tapping on an entry will tell you a little more about it, and take you to the related Facebook settings page. For example, selecting the "facial recognition" entry will bring you to the dialogue menu to setup what the network does when photos that look like you are uploaded.
You can also tap a "next" button in the top right to navigate through all of the suggested fixes without returning to the main menu list.
Conclusion and download link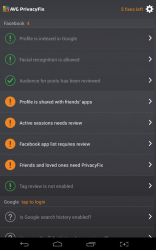 AVG PrivacyFix is not an app you need, but it is an app you may use. It scans your social accounts, namely your Facebook profile, and returns suggestions on making your content and information more private. If you already know what you're doing when it comes to locking down your Facebook account, then this app won't offer anything new. However, if you don't know about Facebook privacy settings, then this app will help you.
And therein lies the issue I have with this app. It is, in my opinion, a potentially unnecessary app (like most of AVGs mobile software). It will certainly help you review various settings regarding Facebook privacy, but you can already do that on your own. Plus, if you want to manage your Google Plus and LinkedIn profiles you will have to install a browser plugin (Firefox or Chrome) and do so through a desktop or laptop PC. It's the same old bait and switch from AVG, as they're trying to entice you to use their other products.
Overall, if you're looking to lock down your Facebook account and you don't know how to do it yourself, this app is certainly worth a try. If you already know how to handle said configurations, this app will be of absolutely no use to you.
Price: Free
Version reviewed: 1.0
Requires: Android 2.3.3 and up
Download size: 2.5MB
Related Posts