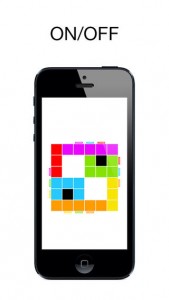 I'm not sure I'd self-identify as a "design snob," but I definitely have an appreciation for apps that are thoughtfully, elegantly, and cleverly designed. More often than not, I will choose to use an app that is a little bit prettier and a little less functional. And when it comes to games, I definitely tend to judge them by their graphics first and gameplay second. Every once in a while, however, I find an app that is stunning both in terms of what it looks like and what it lets you do. For gaming fans who want a game that's both attractive and fun, there's a great puzzler called ON/OFF.
What is it and what does it do
Main Functionality
ON/OFF is a stunning, minimalist puzzle game Your goal is to move tiles into lines, thereby connecting two switches and allowing you to turn them "on." This game was developed by  Thomas Castel/1Button.
Pros
Beautiful design that is both colorful and minimalist
Intuitive control schemes
Great for building problem solving and critical thinking skills
Addictive gameplay
Levels can be played in any order!
Version 1.3 contains 60 brand new levels (bringing the total number of levels to 240)
Cons
While the game is free, some players may be sorely tempted to purchase "key packs" to get past levels that are stumping them. 5 keys cost 99 cents.
Levels lack a clear difficulty rating system
There are a total of 11 levels, but additional packs of three worlds each cost 99 cents
Discussion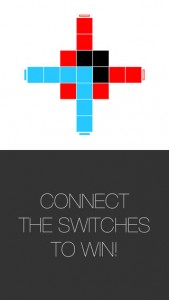 The mechanics of ON/OFF are quite simple: slide tiles around the screen until the correct colored tiles are lined up with their matching colored switches. Despite being quite simple in theory, the layouts of the various levels make many of these puzzles extremely difficult.
The design here is excellent, both in terms of how the puzzles are rendered and how the interface is laid out. There are three main buttons you need to worry about at the top of the screen: a back button to go to the level selection menu, a key icon for using a key to skip a level., and a "recycle" icon that resets the level.
The entire experience is very polished and elegant. The puzzles are compelling, the layouts get creative in a hurry, and the game has a very high overall level of difficulty. One thing that might be nice is some sort of star rating system to indicate the level of difficulty for each puzzle. Then again, that's just one more thing that would clutter up the screen and interfere with the look of the app.
Conclusion and download link
If you like colorful, simple, and expansive puzzle games, ON/OFF is a seriously excellent option. If you need a new time waster that also puts your brain through its paces, this game is fiendishly addictive. It's rare to find a game that's both beautiful and fun to play.
Price: Free
Version reviewed: 1.3
Supported OS: Requires iOS 5.0 or later

Download size: 3.5 MB
Related Posts