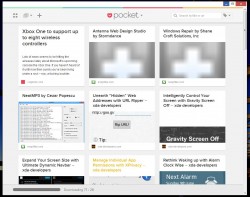 Pocket is a wonderful application for mobile devices. If you like reading text content or blogs, you can save anything to your Pocket for reading later even while offline. The service is available cross-platform meaning you can save content to your Pocket on mobile or through the web browser bookmarklet and access it from other platforms. However, until now there was no desktop app available for Pocket on Windows. Recently, though, Pocket was released for Windows. Let's check it out.
What is it and what does it do
Main Functionality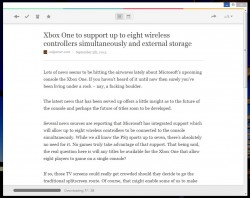 Pocket for Windows is like Pocket for other platforms — it allows you to save and/or download all types of online content for viewing later or viewing offline. The idea is that you can save content to your "pocket" for reading at a later time. Perhaps the most appealing feature is that the content is presented in a very attractive and magazine style layout.
Pros
Allows you to save/store online content and view it at a later time — even while offline
Apply and categorize saved content with custom tags, the app separates articles, videos and photos automatically
Very minimal and attractive UI, meaning the content is distraction free (no ads)
Cons
Same exact thing as the mobile and web portal variants, including the browser extensions — so there isn't much to this Pocket for Windows release aside from working on Windows
Although this is Pocket for Windows, it uses Google Chrome App Launcher. Chrome App Launcher is a framework released in the latest version of Google's Chrome web browser. It allows you to download and install apps, and use those apps while offline. Pocket works on that Chrome App Launcher framework, meaning you have to have Chrome installed to use Pocket for Windows.
Discussion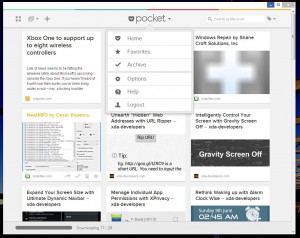 With Pocket for Windows, you can do everything that you can with the Chrome extensions or web portal. I'm saying that here and now because if you use Pocket on other platforms or via its bookmarklet, you must realize that there's nothing different about the desktop app. So, why would you want it then? The simple answer is that the desktop app is native to your system, meaning you don't have to leave a browser running in order to use it. Yes, it uses Chrome App Launcher but you don't have to run Chrome to use it.
That being said, as you add content to your Pocket it gets classified as an article, video or photo. You can also add tags to new items in order to categorize them later. For example, all Android news could go under an "Android" tag.
The real benefit is when you open Pocket to read your content. It's displayed via a card based UI that is very attractive, but practical too. The best part is that you can access Pocket from mobile devices, any web browser through the URL, or your computer with the new desktop app. Long story short you can pull up your content anywhere.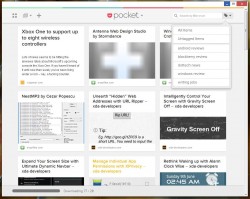 Like Gmail, you can archive articles and content that you've finished reading or you can delete it from your Pocket entirely. Obviously, the best stuff you read and want to keep would be great to archive. You can also add content to favorites, which basically makes it available all the time.
Every time you first connect to the app, it will download any new articles or content you've added recently. The data is downloaded so that you can read it offline. You can also visit the original link at any time if you have an active internet connection.
Conclusion and download link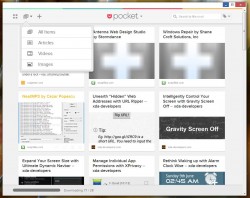 Pocket is a useful application that allows you to save content on the web for reading later. The best part is that it pulls all necessary content and displays it in a unique and stylish interface, making everything easy to read. Plus you can use it while offline.
The biggest downside to Pocket for Windows is you must have Chrome App Launcher installed… which means you must have the latest version of Google Chrome installed. For some, this isn't an issue. For others, this is a deal-breaker. I do wish Pocket create a native Windows program in the near future instead of using Chrome App Launcher.
Overall, I highly recommend Pocket to anyone that wants the ability to save/store online content for viewing later or viewing while offline. Sure Pocket for Windows doesn't add anything new you wouldn't find in Pocket's mobile versions or bookmarklet, but, in its defense, it doesn't really have to offer anything more — it is great as-is. Check it out.
Price: Free
Version reviewed: 0.600
Supported OS: Windows 8/7/Vista/XP
Requires latest version of Google Chrome to be installed
Download size: 7.42MB
VirusTotal malware scan results: N/A
Is it portable? No
Pocket for Windows on Chrome Web Store
Related Posts