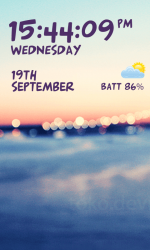 Live wallpapers are great especially if you want to make your smartphone or tablet look more lively and attractive. It's just that having one wouldn't really make a difference unless of course, you turn it into something useful and not just something that's pleasing to the eye. In this case, you might want to give the Digital Clock Live Wallpaper app a try.
What Is It and What Does It Do
Main Functionality
The Digital Clock Live Wallpaper app is a live wallpaper clock app for Android that is created and developed by Wokomoco. What's great about this app is that it's more than just an eye candy. It actually does something useful because it also works as a custom digital clock. With this app, you will also be able to check the date and weather as well as your phone's remaining battery life.
Pros
Easy to configure
Lots of cool and creative wallpapers to choose from
Displays the date, the time, the weather, your phone's battery percentage as well as your Wifi SSID
Customizable text color and font style
Supports both 12-hour and 24-hour time format
Supports both °C and °F for temperature display
Aside from its pre-loaded set of wallpapers, you can also use any picture from your phone's gallery
Cons
The available font styles are not really that attractive – it would be nice if there were more decent options
When you're trying to configure the settings for your wallpaper, the changes that you've made will occasionally overlap
You may need to remove some of your widgets so that they won't take up the space that is meant for the digital clock
You cannot change the size, position and orientation of your digital wallpaper clock
There are ads that will randomly pop up while you're changing your wallpaper's settings
Discussion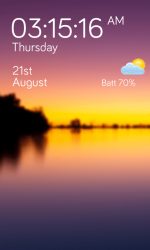 Just like any other wallpaper apps, you can easily access your Digital Clock Live Wallpaper menu by going to Menu > Wallpaper > Live Wallpapers. This is where you can configure the settings of your live wallpaper. In this particular app, you basically get to choose the type of wallpaper that you want to use. Just keep in mind that the wallpaper itself is static which means that it's just like the regular wallpaper without any moving objects, etc. Nonetheless, what you're getting is a live digital clock that updates every second.
What I like about this app is that it has a wide variety of beautiful and creative wallpapers. It actually has a whole gallery of nature-themed, modern and abstract wallpapers. So it's so easy for you to choose what you like and if you still can't find the one that you want, you can simply make use of the photos that you have on your phone gallery or SD card.
On the other hand, you also are also allowed to change the look or style of the digital clock as well as the rest of your wallpaper's display elements. You can change the font style and font color. You can also opt to show only those that you want to show. By default, your digital clock live wallpaper will show the time, date, Wifi SSID, battery percentage, temperature and weather. Even so, you are free to remove any of these elements except of course, for the date and time. It's just that you cannot resize your digital clock to make it look smaller so it will basically take up almost half of the space of your phone screen. This means that you may need to make some modifications to your home screen by removing some of your important widgets and apps. Other than this, you cannot also change the position of your digital clock. It is basically fixed on the top of your screen.
Nevertheless, this app won't drain your phone's battery life that easily. It basically doesn't have any major effect to your phone's battery consumption and it actually does better than those digital clock widgets. It's just that I find this app's configuration panel too disappointing. It's like when you are making changes (ex. changing the font style, color), the updates that you make will occasionally overlap so you cannot properly take a good look at the preview of your digital clock wallpaper. Aside from this, the user configuration interface just doesn't look neat and well-organized. You can also expect the ads to pop up from time to time.
Conclusion and Download Link
All in all, I can say that Digital Clock Live Wallpaper is just a so-so. It's not bad but it is also not that good. I like its wallpapers as well as its digital clock, but I don't like the fact that it's configuration panel is poorly designed plus the ads will just pop-up randomly with no option for users to go ad-free. You can check out this app if you want, but I don't recommend it.
Price: Free
Version reviewed: 1.6
Requires: Android 2.1 and up
Download size: 4.1MB
Digital Clock Live Wallpaper on Play Store
Related Posts