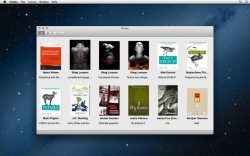 There are a ton of different options for people who want to read ePub and ebooks on their Mac. If you're looking for something that isn't attached to a single format, a lot of people opt for Calibre in my experience. But Calibre isn't always to everyone's taste, including my own taste. The app is solid enough, but I occasionally find myself frustrated by the interface. In my search for a new desktop ePub reader for my Mac, I decided to check out an app with the catchy name of Kitabu.
What is it and what does it do
Main Functionality
Kitabu is a Mac app. You can use it to read your ePub book files on your desktop. It has a drag and drop interface. It also plays audio and video files.
Pros
Interface is much more streamlined and less busy than comparable apps like Calibre
Plays audio and video, in addition to displaying text
Simple drag and drop functionality: Just drag the ePub file on top of the Kitabu dock icon or window
Book can be displayed in one, two or three panes
Easily change font size, type, and color to reduce eye strain
Use slider at the bottom of the screen to quickly flip backwards or forwards in the selected text
Cons
App store description says this app will play audio and video, but I couldn't get it to do so. Possibly due to lack of correct audiobook formats?
Doesn't appear to be a way to set bookmarks or annotate the text in any way
Text would occasionally wrap in a weird way in single-column view, with the side of another column made visible along the left-hand margin
Discussion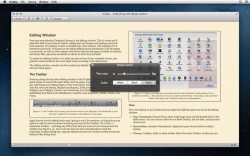 To explain what I like about Kitabu, it might be easier to start by describing what I dislike about my current ePub reader, Calibre. Calibre is not a bad app: pretty much everyone I know uses it for their eReading needs and is happy with it. For my own personal taste, however, I find the interface to be cluttered and confusing.
Kitabu, on the other hand, is refreshingly minimal. Some people might argue that this app is a bit too minimal. For example, there doesn't seem to be a way to set a bookmark in your text. This isn't a huge problem for me: I tend to read books in one sitting anyway, or just leave the app open in the meantime.
Kitabu lets you pick pretty much any font you'd like. Display colors, however, are limited to black, white, and sepia. There is also a slider to help you pick the right size font. You can view text as one, two, or three columns, and adjust the size of the display screen to pretty much any dimension you'd like. It's got the minimal amount of needed customization, while still staying minimalist.
Conclusion and download link
For my own personal tastes, Kitabu is much better than Calibre. True, Calibre is more feature-rich. But what I want in an ePub reader is a very simple interface, with the minimum number of icons and distractions. Kitabu's drag and drop interface is a dream, and I like the app overall. If you feel yourself to be likewise in need of a more bare bones type of ePub reader, give Kitabu a try. It will be replacing Calibre for me from now on.
Price: Free
Version reviewed: 1.0.7
Supported OS: OS X 10.6 or later

Download size: 1.9 MB
Related Posts