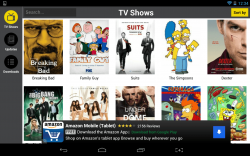 One of the best things to do when you're on vacation, on a road trip or just relaxing at home is to kick back and watch some good ol' TV. Netflix and Hulu are great ways to watch movies and shows on your mobile devices no matter where you are. Every now and then a free offering crops up like Sony's Crackle, but a lot of them offer utter crap in the way of good content. Don't get me wrong, some of the free apps do offer a good show or movie here and there, but usually shows you would normally watch on TV are not available. That problem has changed completely with Show Box. The app description says it all, "amazing collection of TV-shows for free."
What is it and what does it do
Main Functionality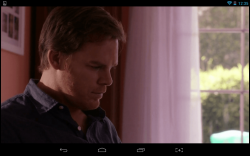 Show Box is an Android application that offers you tons of content for streaming or download. Shows like Breaking Bad, Dexter, True Blood, The Walking Dead, The Simpsons, Suits, Under the Dome and much more are available. Needless to say there is a lot of excellent content in the catalog. I'm not entirely sure about the legality of an app like this, so it's possible that Show Box will be removed from Google Play in the near future (please keep that in mind). It certainly does not appear like any of this content is officially licensed.
Pros
Allows you to stream and download TV episodes (for offline viewing)
There is an insane amount of content, if you like TV then you will find something of worth — guaranteed
The UI and interface is easy to navigate and minimal
You can choose streaming and download quality for all content

Two languages available Russian and English
Cons
May not be legal and might be removed from Play Store soon
It's a streaming app so it uses an obscene amount of RAM and network data, thus draining the battery considerably faster
The advertisements can be quite obtrusive at times, although none appear while streaming
Discussion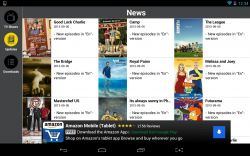 Let me just start this review off with this: you can watch all sixteen seasons of Pokemon through Show Box. Alright, alright so I know Pokemon is not exactly everyone's "thing," but don't worry there are plenty more shows available. Just to throw you a bone, you can also watch all three seasons of Game of Thrones. Pretty amazing, right?
Like I said above, I'm not entirely clear on the legality of an app like this. The content is clearly not officially licensed through the right parties, so it's extremely possible this app will be removed from the Google Play store for copyright infringement. All the content offered through the app is available for streaming or download. Yep, you can download the shows directly to your device for offline viewing. Again, it's not [strictly speaking] legal, so if you're against using apps like this then you should probably meander off.
The interface is remarkably simple and minimal. Right when you load the application you will be presented with the full list of content available. Choosing a TV show in the list brings you to a related sub-menu where you can see a short description, choose from the different seasons available and select the episode you want to stream or download. Tapping on an episode will open another little popup menu, this allows you to choose the audio language (Russian or English), the streaming quality (low, middle, high) and whether you want to download the episode or stream it.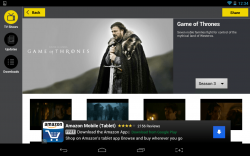 If you stream the episode, the content will begin playing almost immediately. If you download the episode, it will be added to your "downloads" list which is accessible via the side-menu.
During playback, I did notice a bit of lag here and there while the video quality was turned up all the way. I used the app at home during testing, and my internet connection is powered by Verizon Fios so that should give you some kind of example of the streaming quality. It's comparable to Netflix and Hulu to be perfectly honest. I noticed that if I lowered the quality to medium, it reduces the video size but it did improve streaming performance.
Downloads take some time to complete, especially if you select high quality. Naturally, HD videos take up a lot more storage space than standard quality ones.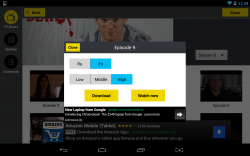 Advertisements are served up the entire time, no doubt generating a nice chunk of revenue for the developers. When browsing through show lists, the bottom placed banner can sometimes get in the way, especially when you've scrolled down to the very bottom of a list. It's nothing you can't work around, but it is certainly a bit aggravating at times. Smaller banners appear here and there when the pop-up windows appear.
It goes without saying I noticed a significant increase in battery drain while using the app. If I had to guess, I would say it's much more demanding than Netflix or Hulu. Perhaps there's a memory leak of some kind while using the app? It uses about 40MB of RAM while running, even while several downloads are active. Furthermore, streaming apps are notorious for eating through batteries like candy. This is because they require constant use of the display and network connections.
As a final note, if you enjoy watching TV there's definitely a show available for you in the Show Box catalog. I would say that's pretty much a certainty, if only because there's so much content available.
Conclusion and download link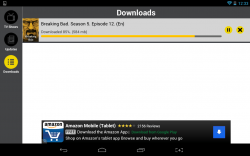 Show Box is a TV show streaming and download application for Android that offers a catalog filled with tons of high-profile content. You can find episodes of Game of Thrones, Breaking Bad, The Walking Dead, South Park, Under the Dome, Suits, Dexter and so much more. Pretty much the entire series of each show is offered, and you can both stream online and download them for offline viewing as necessary. You can choose the quality out of three available options (low, medium and high), which also determines the file size when downloading. The app does drain the battery significantly while in use, and consumes a total of 40MB of RAM, but with a streaming app like this that's to be expected.
Overall, if you love TV, then you will definitely find something for you in the Show Box catalog. That being said, the whole setup is probably not legal. I expect the app to be unavailable through Google Play soon, and you should as well. However, I don't see why we can't use it while it is still available on Play Store.
Price: Free
Version reviewed: 1.0
Requires:Android 2.2 and up
Download size: 988KB
Related Posts