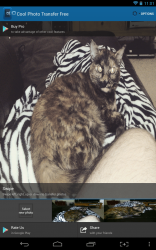 One thing in particular that I'm constantly doing with my device is emailing photos (like screenshots) to my own email address. You could say it's because I'm lazy, but I don't like transferring photos by physically plugging my device into my computer- it's just a hassle. You can always use a system like Airdroid or something similar to transfer photos wirelessly. Cool Photo Transfer is an Android application that allows you to quickly transfer photos to a PC via a Wi-Fi connection. Of course, it requires you to install an Android app on your device, and a companion client app on your PC to use properly.
What is it and what does it do
Main Functionality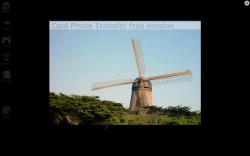 Cool Photo Transfer is an Android application that allows you to innovatively transfer files to your PC via an active Wi-Fi connection. I mention "innovation" because there are some pretty interesting transfer features like swipe, touching to your monitor, snapping your fingers and more. Of course, there are free and premium versions available which means some features are omitted in the free variant- that's to be expected with this kind of app though. More importantly, Cool Photo Transfer allows you to quickly transfer files without long waiting periods.
Pros
View or transfer files on your PC by moving them from an Android device
Very easy to setup and connect the two apps, as long as the devices are connected to the same Wi-Fi network
Send pictures using several different methods, most of which involve swipe gestures
Includes a unique control mode which allows you to interact with the displayed photo, pan and zoom support and rotate the device to rotate the image
Both the Android and PC client are relatively light on system resources
Cons
All images in the free version even those transferred for storage include a watermark
Sometimes the image will appear distorted on the Android device, but it looks fine on the PC or after being transferred
The premium version offers a lot more file transfer methods, including shake, clap and finger snap to transfer files
By default the images are not configured to store on the receiving computer, you can enable this through the app settings on the PC client though
Discussion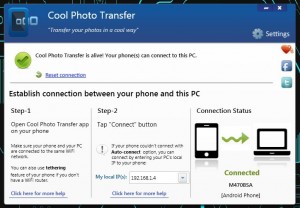 Cool Photo Transfer requires you to install an application on your Android device and on your Windows PC. The PC client is available in both a traditional install package and a portable one. Obviously, if you choose the portable variant it's bundled in a compressed archive which means you need a tool like WinZIP, WinRAR or 7ZIP to extract the related contents.
Connecting the mobile version with the PC client is remarkably simple. On all accounts it just works, no really it does. Of course, you have to be connected to the same Wi-Fi network with both devices. In the mobile app, you can choose to auto connect or manually connect to the client, depending on the circumstances. During my testing, the auto-connect function worked every time. When connected, both the mobile app and the PC client will clearly tell you as such. That's the real emphasis here with this file transfer system, the ease of use. Even the most casual users will be able to set-up the companion apps and transfer files quickly.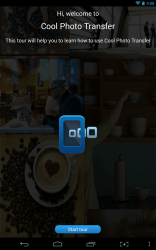 The first time you run the Android application it will take you through a tour of the user interface.
There are several ways to transfer files, some of which are not available in the free version of the app. Of particular importance is the fact that you can send images directly to your PC with a simple gesture. All you have to do is select the image you want to transfer in the mobile app and then swipe to one of the edges of the screen. If both devices are connected, the photo will instantly display on your PC. Depending on which transfer method you employ, a different animation will playback when the photo appears. If you want to customize the animations for various actions, you can do so through the PC client. Just to provide a quick example, if you slide the image on your Android device to the left it will slide in from the right. If you shake your Android device to transfer an image, a shake animation will play on the connected PC while the image appears on the screen.
By default, the PC client is configured to just display the images and not store them on your computer. Through the app settings you can change it to save them, and you can also select the storage directory. For a person like me, transferring photos for use elsewhere is pretty quick and painless. I just select the device I want to move to my PC and swipe away. You can also employ several other unique actions like shaking the screen, snapping your fingers, or using a pinch gesture.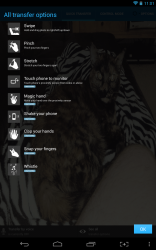 The most noticeable change in the free version is that it adds a watermark to transferred photos. The watermark is a wide banner displayed across the top of the image that clearly states the name of the app. With some images you can always crop it out of the picture, but there are circumstances where that will ruin the photo. Yes, the watermark still appears even in the images that are stored on your computer. In my case, where transferring photos is the sole reason I would use this app that watermark is more than just a little disconcerting- it's an obstacle.
That being said, the pro version of the app is only $2.46 on Google Play. Features exclusive to the paid version include the following transfer methods and more:
Tap or touch phone to monitor
Wave your hand in front of the proximity sensor
Shake the device
Clap your hands
Snap your fingers
Whistle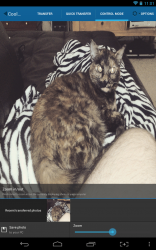 Generally, when you transfer a photo you have to select the next one before you can move on. There's a quick transfer feature that automatically select the next picture in the queue to make batch transfers faster.
There's also a control mode, which allows you to control various aspects of the displayed photo. This is useful for occasions where you would like to present a slideshow of some kind. For example, when an image has been sent to the PC you can rotate it by simply rotating your Android device. You can also pan and zoom the image with gestures. From what I can tell it works completely unhindered even in the free version.
For reference, the Cool Photo Transfer Android app uses nearly 25MB of RAM while running and the PC client uses 38MB.
Conclusion and download link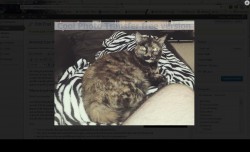 Cool Photo Transfer is a semi-unique image transfer tool for PC and Android. Of course, you need to install both the Android app and it's PC counterpart on all devices. Once connected, which can be done automatically with the tap of a dialogue button, you can transfer photos to the PC for viewing or storage. Images can be transferred using several methods, most of which involve using finger gestures. In the free version, transferred images are displayed and stored with a watermark. This can be removed by purchasing the premium version of the Android app for $2.46, which also comes with a bunch of new file transfer methods. Those methods include shaking the device, clapping your hand, snapping your fingers and more. There are also quick transfer modes, and a control mode which allows you to interact with the photo displayed on your PC. Both the Android app and PC client are relatively light on system resources.
If you're looking for a quick file transfer app, Cool Photo Transfer is a great option. The only thing you need to be aware of is that the watermark can sometimes interfere with a great photo. If you're going to use the app I recommend purchasing the premium version, it's worth the minimal cost.
Price: Free, $2.46 (premium)
Version reviewed: 1.0
Requires: 2.2 and up
Download size: 4.4MB (Android), 2.32MB (Windows portable)
VirusTotal: 0/46 (Cool Photo Transfer Portable for Windows)
Cool Photo Transfer on Play Store
Related Posts